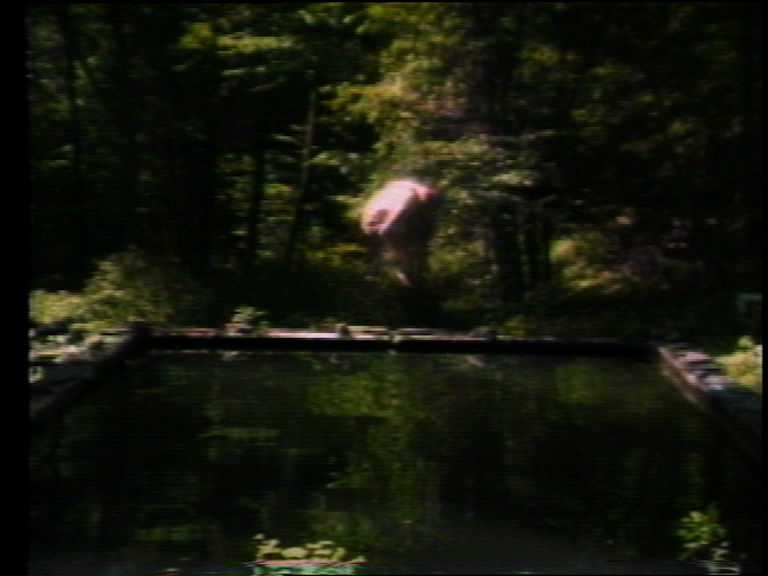 Bill Viola
The Reflecting Pool (from The Reflecting Pool – Collected Work 1977–80), 1977–9
Viola is among those artists who have most powerfully influenced the development of video art since the late 1970s. Trained at Syracuse University in New York State, he first exhibited his video work in 1972, in the US. Two years later he had an installation in the show Action Film Vidéo organised by the Impact group in Lausanne. Here he forged links with actors in the local scene, including Jean Otth.
The Reflecting Pool belongs in a series of five independent fragments which, taken together, describe the stages in a personal journey using images of transition – day to night, movement to fixity, time to timelessness. In these works Viola also explores the possibilities for special effects afforded by magnetic tape. We see a man come out of the woods and take up position beside the pool at the centre of the image. His body is reflected in the water. Suddenly, he leaps up and his body stops in mid-air, like a freeze-frame. Meanwhile, the other elements in the image continue to move normally (the branches, the water, forest noises). Interviewed by Raymond Bellour in 1986, the artist said of this work that, 'The image is fragmented into three distinct levels of time (real time, suspended time, time lapse) and reconstructed in such a way that it looks like an image in a single space. … It really is like sculpting time.'
In addition to the way video makes it possible to bring together several temporalities, the symbolic dimension of the relation between man and water is also at the centre of this piece. Indeed, water is omnipresent in Viola's work, where it signifies different states of consciousness (dream, waking) but also different stages leading from birth to death, from amniotic fluid to baptismal water or even the apocalyptic waters of the flood.
Bibliography
Jérôme Neutres and Anne-Marie Duguet, Bill Viola, exh. cat. Paris, Grand Palais, Galeries nationales, Paris, Réunion des Musées Nationaux, 2014.
Kira Perov (ed.), Bill Viola, exh. cat., New York, Whitney Museum of American Art, Los Angeles, Los Angeles County Museum of Art, Amsterdam, Stedelijk Museum, Francfort, Museum für Moderne Kunst, Schirn Kunsthalle & Karmeliterkloster, San Francisco, San Francisco Museum of Modern Art, Chicago, The Art Institute of Chicago, New York, Whitney Museum of American Art, Paris et New York, Flammarion, 1997.
Marie Luise Syring (ed.), Bill Viola. Unseen Images / Nie gesehene Bilder / Images jamais vues, exh. cat., Düsseldorf, Kunsthalle Düsseldorf, Stockholm, Moderna Museet, Madrid, Museo Nacional Centro de Arte Reina Sofía, Lausanne, Musée cantonal des Beaux-Arts, Geneva, Saint-Gervais, London, Whitechapel Art Gallery, Düsseldorf, R. Meyer, 1992.
Browsing the collection