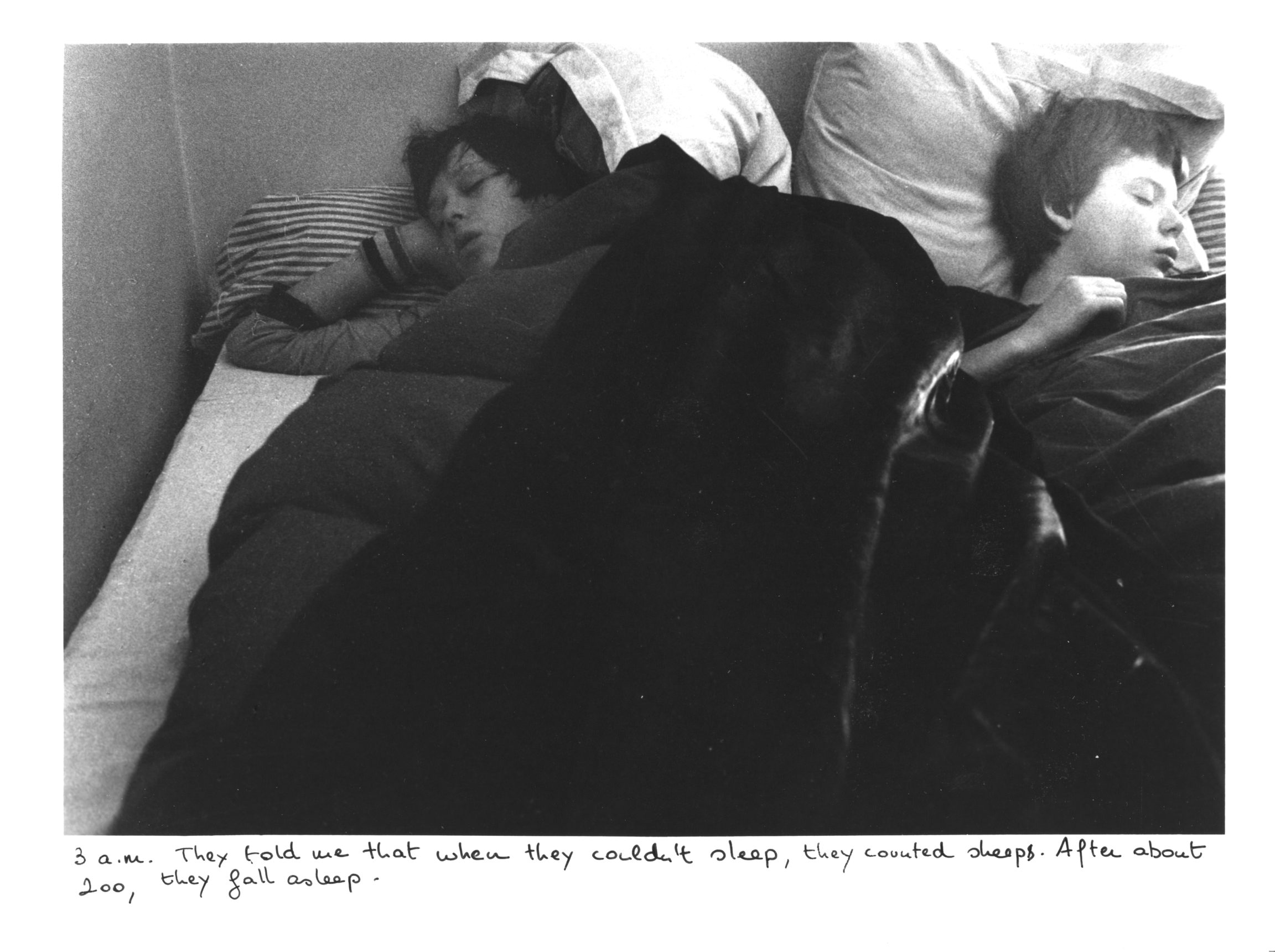 Sophie Calle
The Sleepers (Antoine Gonthier, Twentieth Sleeper, and Patrice X., Twenty-First Sleeper), 1979
Propped up on a bolster and a pile of pillows and tucked under warm blankets, fourteen-year-old Patrice X. is smiling timidly at the photographer. His head is slightly tilted and his right hand is gripping his left wrist in a somewhat defensive pose. The artificial lighting creates a stark chiaroscuro effect. It is past midnight and Patrice is getting ready for bed. He is waiting for Sophie Calle's brother, Antoine Gonthier, who will be spending the night with him. This portrait, accompanied by a handwritten caption that is purely factual, captures an intimate situation. In this early work, Calle adumbrates many of the features of her later art: applying clear playing rules, simulating reality, creating a narrative, and producing documentation.
This photograph is taken from a reduced run of the series The Sleepers, recording a life experience archived in the form of 176 photographs and texts. From April 1 to 9, 1979, Calle – who did not yet describe herself as an artist – invited twenty-eight people to come and sleep at her home: friends and strangers, of all walks of life and ages. They all slept in Calle's bed, with the only proviso that they should stay in it for eight hours and let themselves be photographed and observed. Calle took notes on the time she spent with her guests and sometimes chatted with them, as she did here with Patrice and Antoine, asking them about their sleep and their little bedtime rituals.
Over Patrice's head is a collection of pictures of beds, wall-hangings, and reclining nudes. Calle reminds us that sleepers have been a constant motif in art history, creating a mise en abîme effect.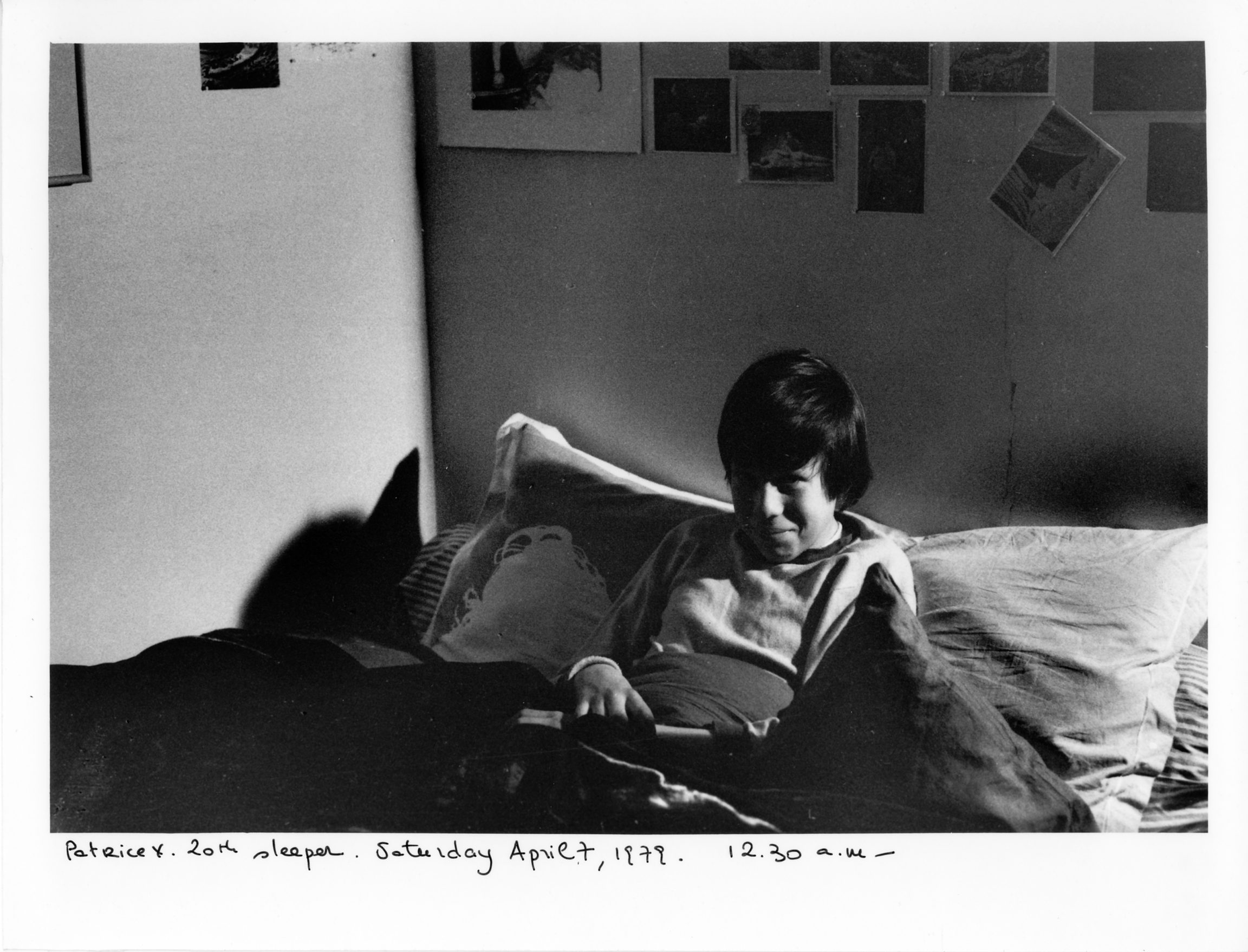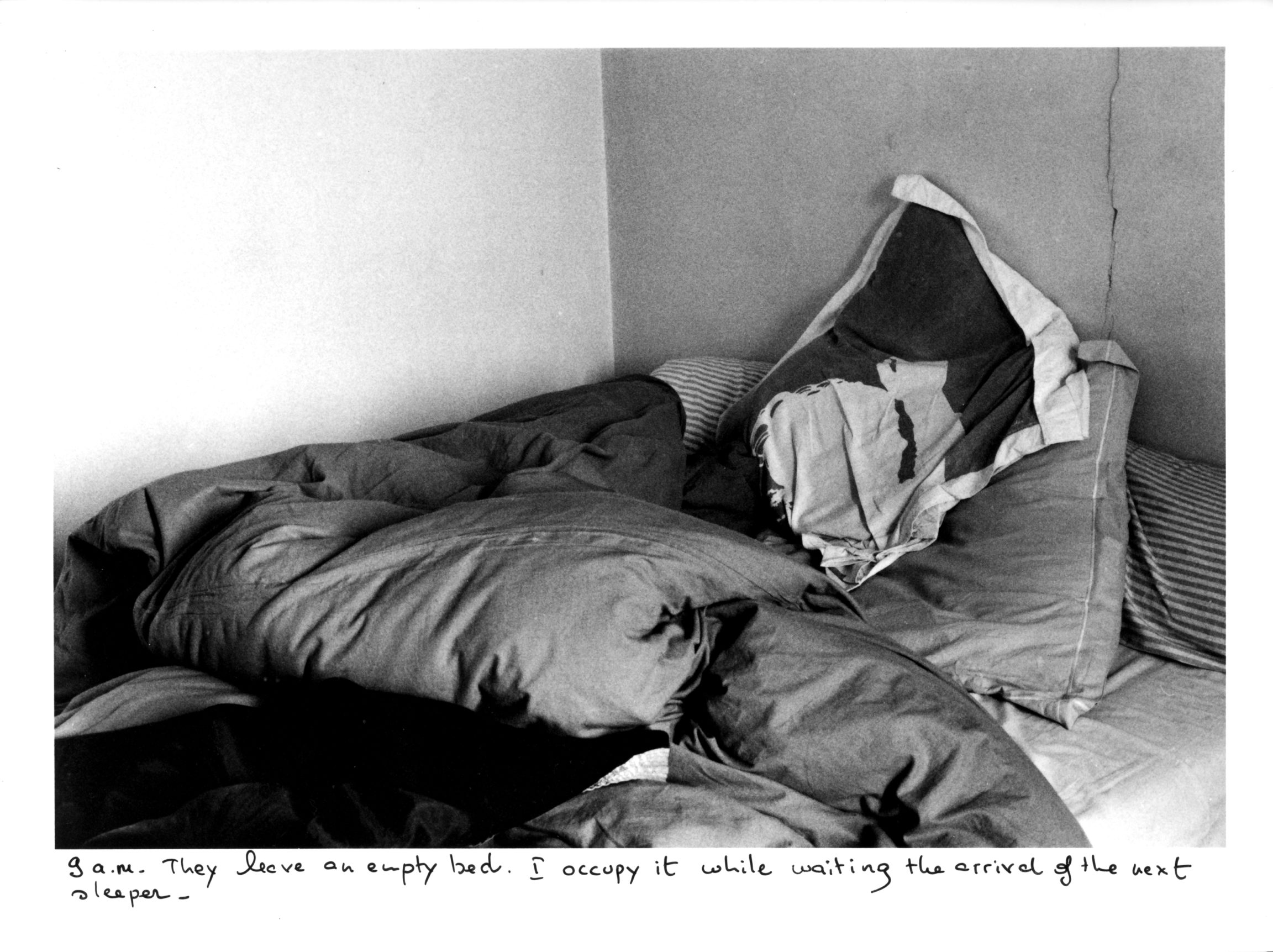 Bibliographie
Christine Macel (dir.), Sophie Calle. M'as-tu vue ?, cat. exp. Paris, Éditions du Centre Pompidou, 2003.
Sophie Calle, Les Dormeurs, 2 vol., Arles, Actes sud, 2000.
Catherine Lepdor, Paul Müller et alii, Le Sommeil ou quand la raison s'absente, Les Cahiers du Musée des Beaux-Arts de Lausanne no 9, 1999, p. 72-74, no 45.