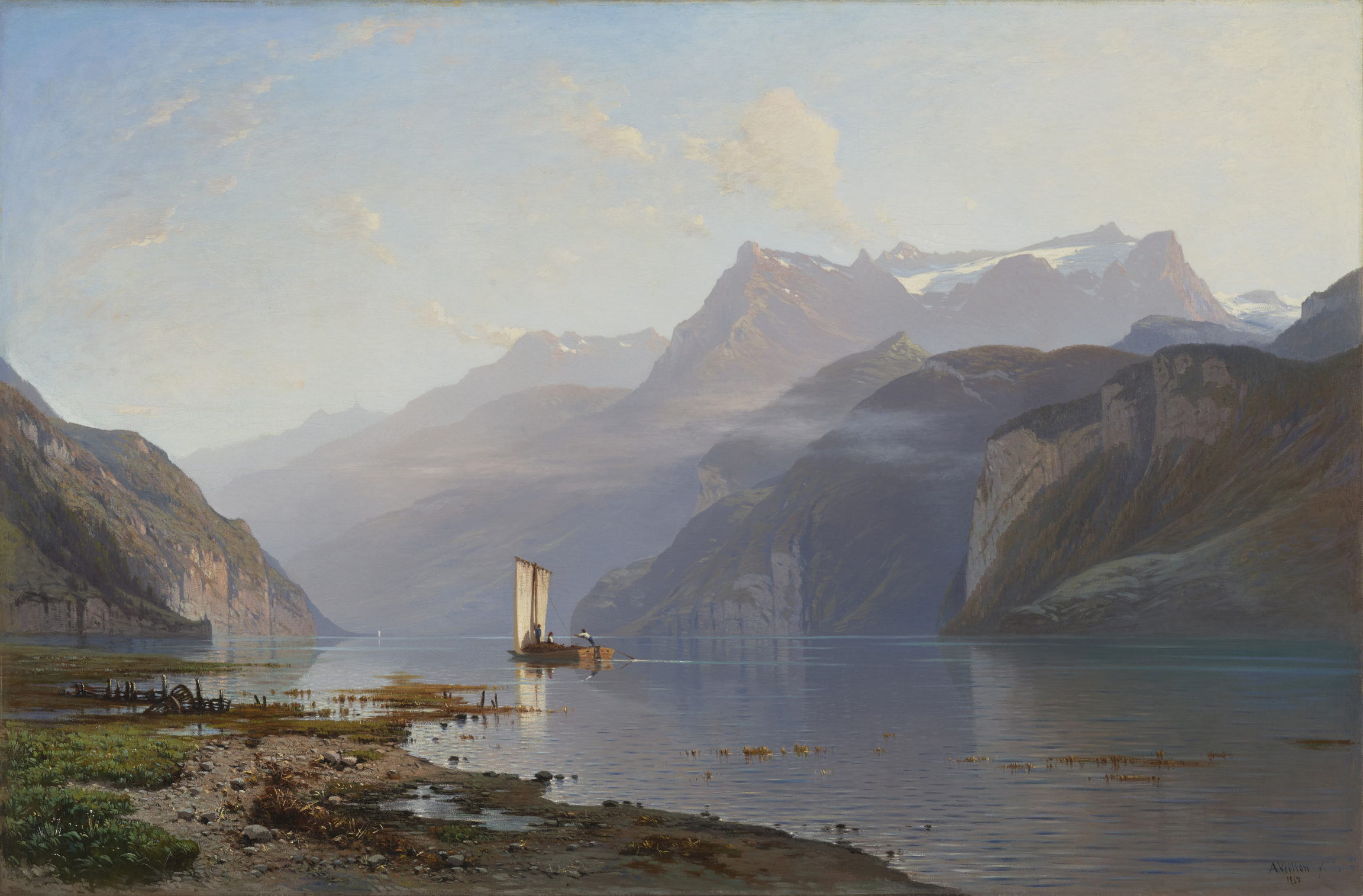 Auguste Veillon abandoned his theology studies in Lausanne to attend François Diday's art studio in Geneva. He then travelled to Paris to study on his own. There he met Eugène Fromentin, who sparked a love of Orientalism. Veillon set off on a series of travels round southern Europe, spending time in Rome with the artist Émile David, a native of Lausanne. Veillon also travelled to Egypt and Tunisia on several occasions between 1870 and 1880. His oeuvre alternated between the landscapes of his home region, where he returned to settle in 1863, and memories of his time in the Near East.
Veillon made lengthy visits to central Switzerland between 1865 and 1889, being particularly fond of the area around Lake Lucerne. This work is one of a series of views of the same site at various times of day and in different seasons. The large painting is a far cry from the Romantic approach idealising the sublimity of nature typical of the Genevan school's first generation of Alpine paintings: it depicts a serene setting perfect for a gentle stroll. The peaceful approach ushers in a discreet human presence on the boat in the centre of the composition, underscored by the boatman's red hat. As an admirer of Claude Lorrain and J.M.W. Turner, Veillon paid due attention to the treatment of light. Here, the sun has vanished behind the mountains, its dying rays lingering in the misty, pink-tinged background, while the shadows are lengthening on the foothills in the foreground.
Bibliography
La peinture suisse entre réalisme et idéal (1848-1906), exh. cat. Geneva, Musée Rath, 1998: 51-55.
Laurent Langer, 'Je séjourne au pays des sultanes. Les voyages orientaux de Louis Auguste Veillon,' in Revue historique du mandement de Bex, n. 32, supplement, 1999.
Paul Barbey, 'Un peintre originaire de Bex : Louis Auguste Veillon,' in Revue historique du mandement de Bex, n. 28, 1995: 32-39.