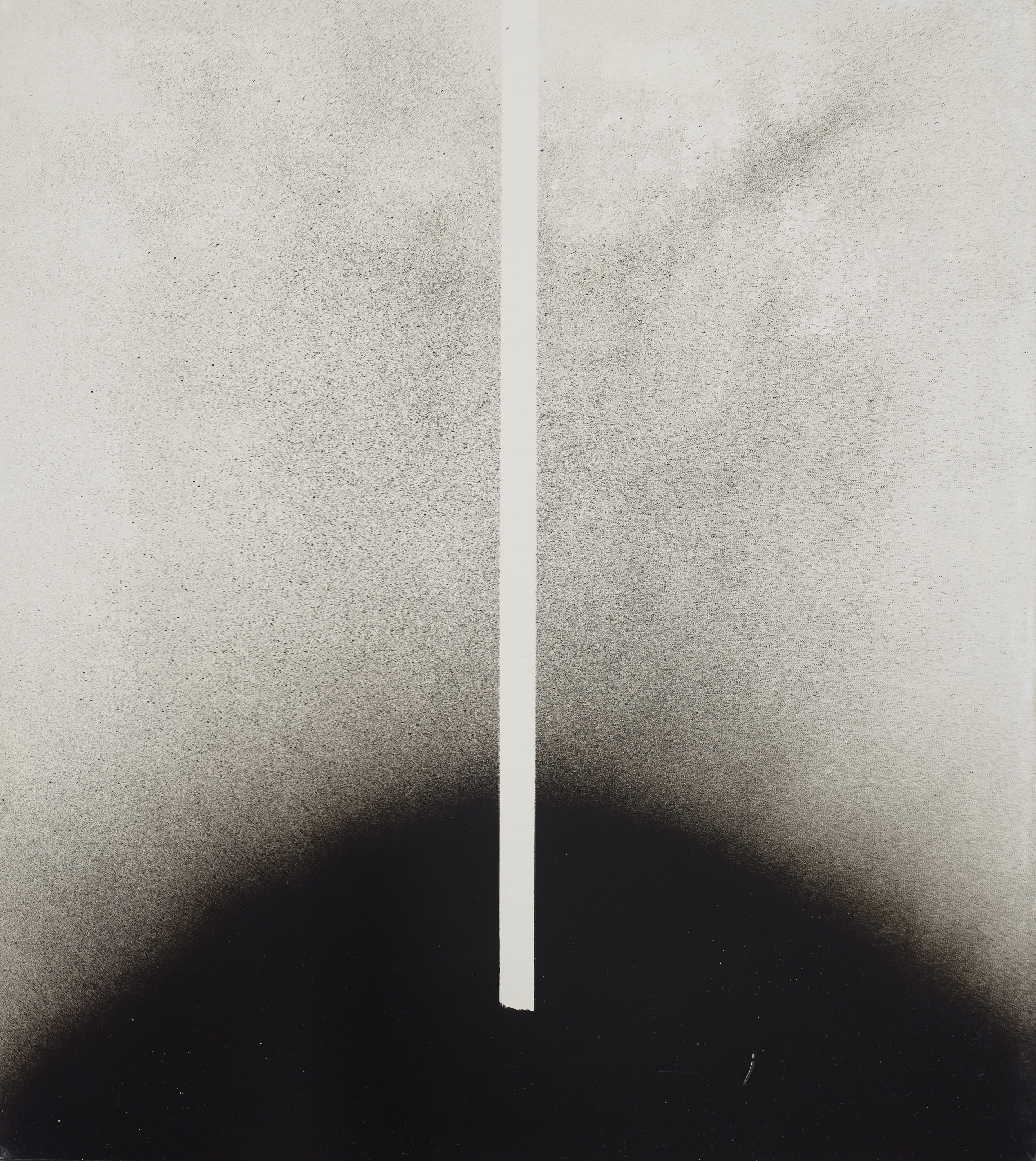 Jean Otth studied Fine Art in Lausanne from 1961 to 1963. He then devoted his early career to painting, experimenting widely with form, seeking particularly to put a new spin on classic techniques and media. He initially worked with sand on wood panels before moving on to paint in the latter half of the 1960s, applying it with a brush or as a spray to canvases and then mirrors.
From the late 1960s on, he produced a series of mirrors mounted in wood frames and partially covered in black paint. The simple, almost abstract shapes generally evoked mountains, reflecting his love of landscapes. He was interested in the clash between the painted sign and the reality reflected in the medium and the constantly renewed depth of field in the reflection and the constancy of the swathe of black paint. In 2007, he wrote a text looking back at his oeuvre as a whole, comparing the juxtaposition of the two modes of representation to a 'collage' which aims to generate an extension of the pictorial surface. Not only does the artist see himself in the mirror when painting, making a fleeting self-portrait, but he also triggers a dialogue between the black composition, the reflective surface, and the immediate surroundings of the work, incorporated into it. The mirror becomes 'a light machine activated by all the variations of daylight'.
For this mirror, Otth used not brushwork, but spray-on lacquer paint, balancing dark and light by creating an almost geometric composition, cut down at the centre by a paint-free vertical axis. The lower half of the mirror is entirely covered by a black mound, over which hover spattered black dots that seem to be evaporating up the mirror in irregular constellations. The boundary between the "reality" of painting and the reflections in the mirror seems to become porous.
Bibliography
Nicole Schweizer (ed.), Jean Otth. Travaux 1964-2013, exh. cat. Lausanne, Musée cantonal des Beaux-Arts, Zurich, Scheidegger & Spiess, 2020.
Jean Otth, Échec et Scotome, Lausanne, art&fiction, 2020 [1st ed.: Paris, 2007].
Jean Otth. Travaux vidéo 1970-1980, exh. cat. Geneva, Centre d'art contemporain, 1980.