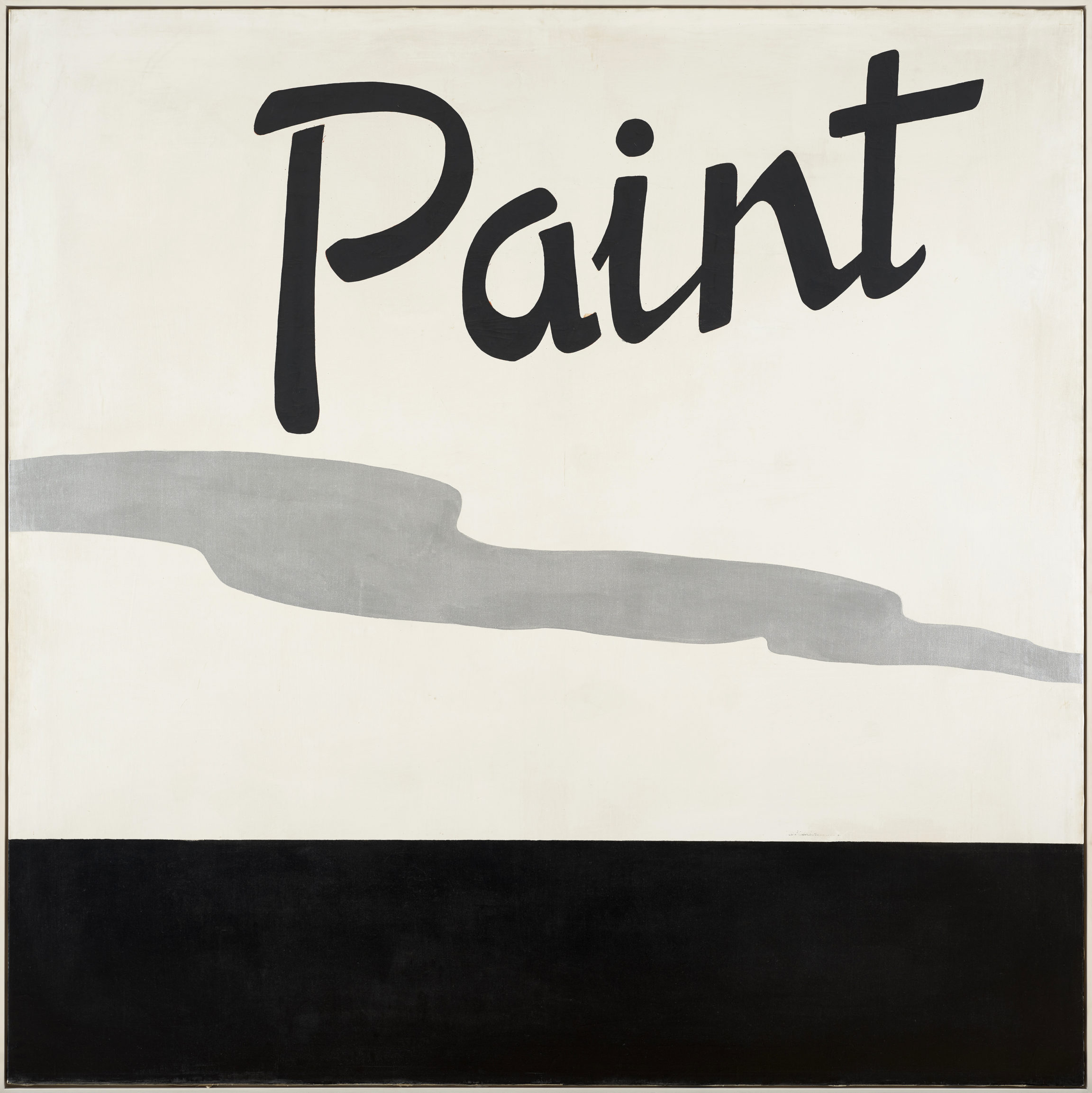 Jannis Kounellis left his native Greece for Rome in 1956. During his studies, he was influenced by artists such as Lucio Fontana and Alberto Burri and by the rich cultural and historical heritage of his adopted city, which rivalled that of his native country.
Prior to 1965, Kounellis focused on painting. He rose to acclaim with canvases stencilled with large black letters, numbers and symbols, but soon decided to turn his back on what was quickly becoming recognised as his signature style. Untitled Paint is one of a group of works from the period just before he distanced himself from painting and joined the arte povera movement, taking up natural materials such as jute, coal, cotton and stones, which then became his preferred media.
Its composition reflects the artist's hesitations over his future artistic path. Echoing contemporary developments in art, it incorporates three directions. It nods to pop art with a touch of surrealism in the appropriation of words taken from everyday life and referring to the object itself as an artefact (in this case, the stylised word 'paint', as if written with a reed pen, evoking an advertising billboard). It refers to figurative art with the motif of the cloud or smoke, and the horizon line that gestures towards landscape painting, and it also hints at geometric abstraction in its large square format and the black strip against a white background.
Untitled Paint offers a synthesis of various artistic languages and self-referentially describes itself as a painting. The stripped down, highly efficient composition, structured by one straight line and two diagonals, each consisting of a single element, generates a range of unresolved tensions: linguistic utterance or representation? Figurative or abstract? Black, grey or white?
Bibliography
Bruno Corà and Lóránd Hegyi, Jannis Kounellis, exh. cat. Saint-Étienne, Musée d'art moderne et contemporain de Saint-Étienne Métropole, Milan, Silvana Editoriale, 2014.
Mary Jane Jacob and Thomas McEvilley, Jannis Kounellis, exh. cat. Chicago, Museum of Contemporary Art, Milan, Arnoldo Mondadori Editore, 1986.