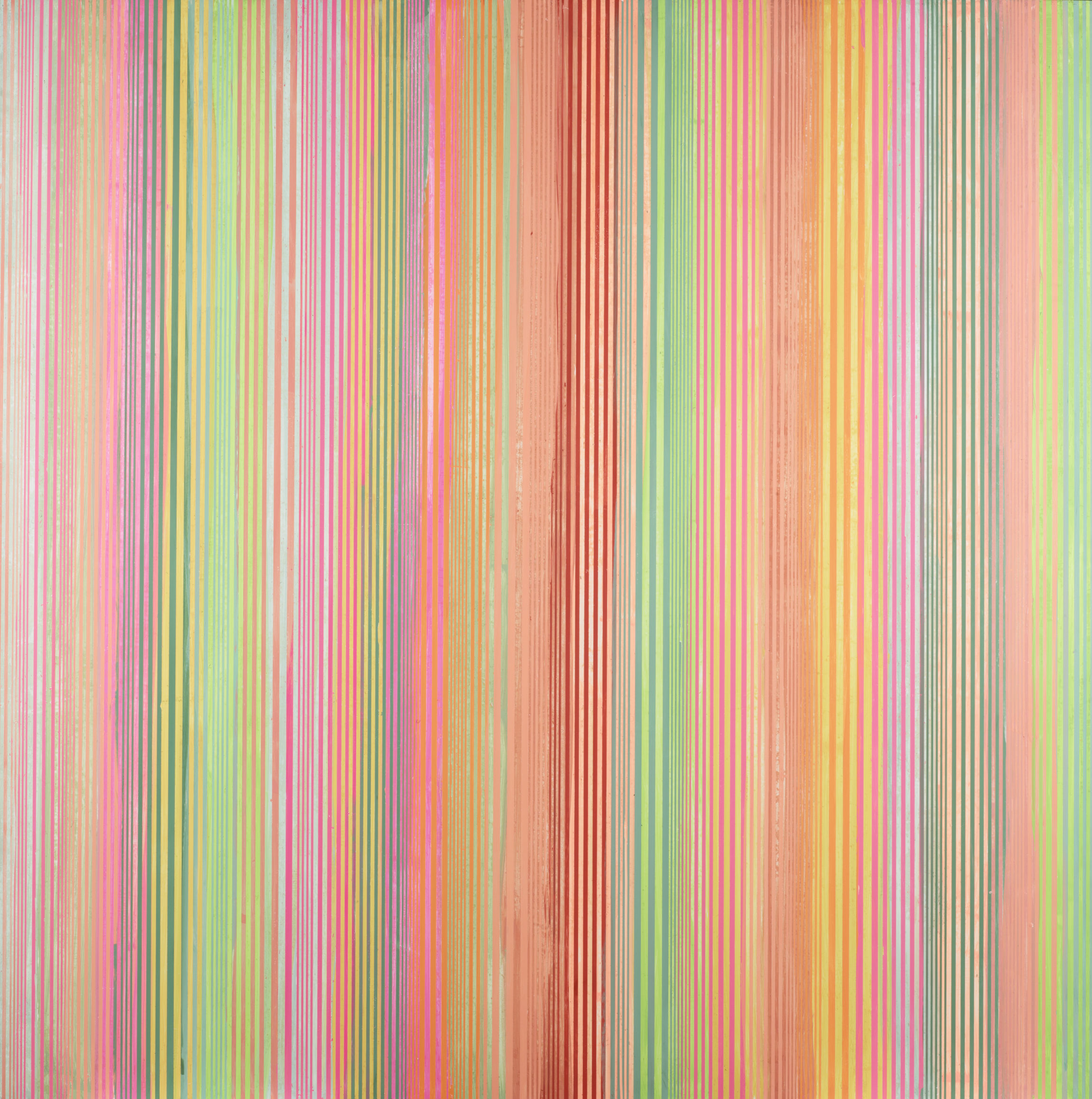 In 2014, Circuit, an artist-run space in Lausanne, held an exhibition of works by Michael Scott, including ATHTTSTW # 7, which paid homage to his influence on artists in the french-speaking part of Switzerland, most notably Philippe Decrauzat. As Decrauzat stated in a 2007 interview, he obtained the shimmering effect in his first paintings by reproducing scans taken from Scott's kinetic black and white Stripes Paintings (1988–94) as colour gradations.
ATHTTSTW # 7 is part of a series of paintings begun in 2009. It takes its title from the initial letters of the sentence 'And Then He Tried To Swallow The World', chosen by the artist when he first showed the series at the Gering & López Gallery in New York in 2009 to reflect the fact that it was his most ambitious exhibition since the 1990s.
The hand-painted lines – part brushstrokes, part drips – make ATHTTSTW # 7 almost musical in scope, with subtle variations that generate a sense of slow movement rather than the intense optical pulsation of his black and white paintings of the late 1980s. The intuitive process of creation and its inherent imperfections are visible: the rhythm of the lines swings between a regular pattern and variations, with three thin lines alternating with broader ones that expand and shrink, returning to the original rhythm. The artist could almost have carried on forever, the edge of the panel bringing the process to an arbitrary end. The lines of colour, from pale to bright pink and from dark green to blue-grey and orange, stand out against a background of large bands of colour in an interplay of alternations, echoes, and repeats of colour that imbue the painting and its composition with a sense of energy.
Bibliography
Michael Scott. Chronology, leaflet accompanying the exhibition Michael Scott – To Present, Lausanne, Circuit, 2014.
Serge Lemoine (ed.), Dynamo. Un siècle de lumière et de mouvement dans l'art, 1913-2013, exh. cat. Paris, Grand Palais, Paris, Réunion des Musées nationaux, 2013.
Lionel Bovier (éd.), Oops. John Armleder, Francis Baudevin, Robert Breer, Michael Scott, John Tremblay, cat. exp. Grenoble, Le Magasin – Centre national d'art contemporain, Lausanne, L'elac – espace lausannois d'art contemporain, Lausanne, 1998.