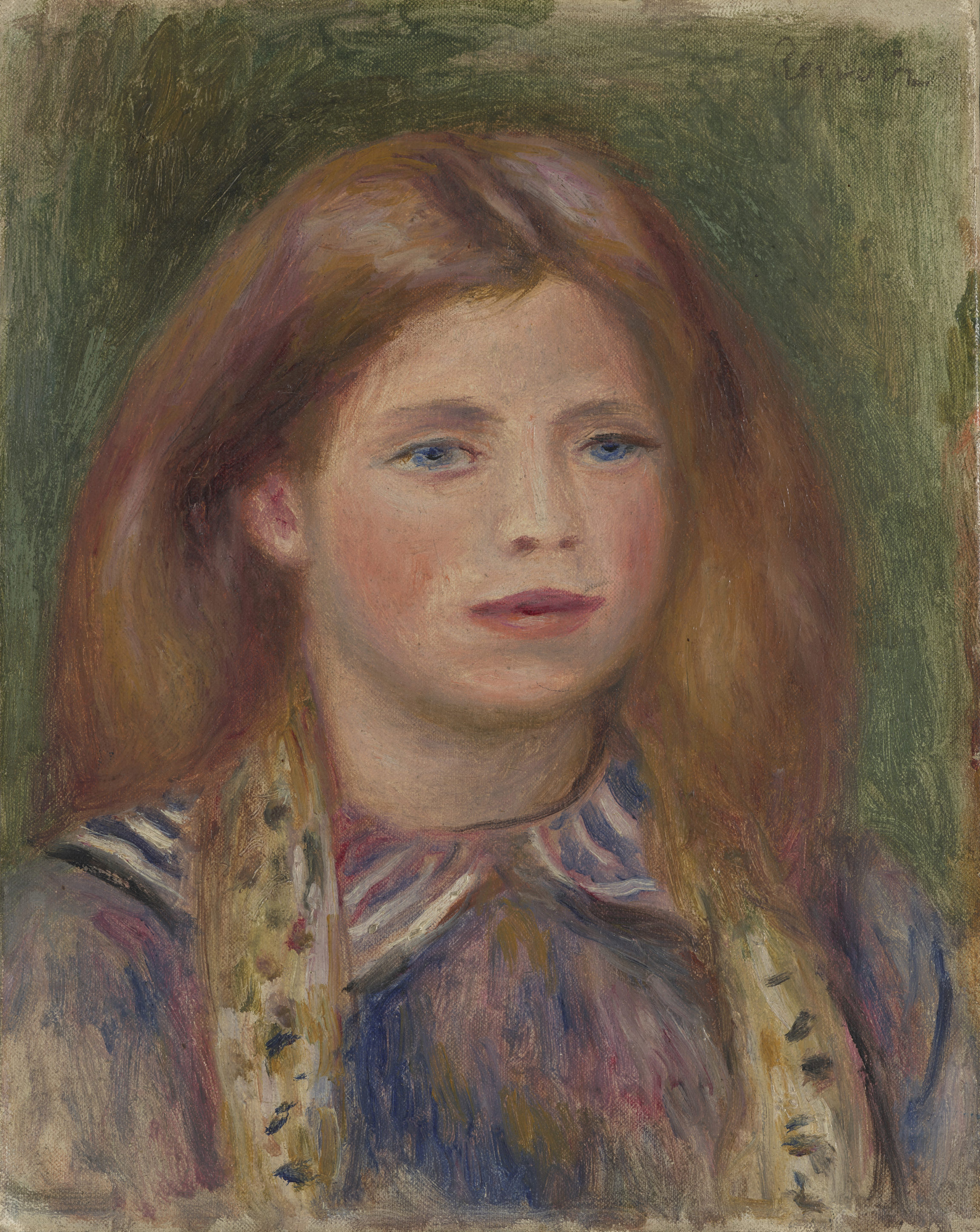 Auguste Renoir
Coco. Portrait de Claude Renoir (Coco. Portrait of Claude Renoir), 1908
Auguste Renoir called on friends and family to sit for him throughout his career. In the early years, this was a purely economic decision, avoiding the cost of a professional sitter; later, he continued the practice on artistic grounds, finding it easier to paint faces and bodies he could observe on a daily basis.
This portrait shows his third and last son, Claude, born in 1901. Claude, known as Coco, later became a ceramicist and film producer who worked with his better-known brother Jean. Auguste produced over ninety portraits of Coco. Here, he is no longer the very young child captured in Coco lisant (Coco reading, c. 1905, Musée d'Orsay). Where other works show him as a young boy busy with some activity so that he would forget he was posing, this portrait shows him face on, patiently submitting to his father's gaze, sitting straight-backed and staring into the distance. As such, it is close to the 1908 sculpture Tête de Coco (Head of Coco). In both cases, the focus is on the face. The work is framed closely round the head and shoulders, with the background and clothing fleshed in roughly, like in two other portraits of Coco writing that date from the same period (both now in private collections). The untrammelled brushwork, lightness of touch, and warm tones contrasting with the green background are typical of Auguste Renoir's mature period.
The painting came from the collection of Ambroise Vollard, the well-known Parisian gallery owner and art dealer who launched the careers of Cézanne, Gauguin, Van Gogh, Matisse and Picasso; he also sat for Renoir on several occasions.
Bibliography
François Legrand, Jean-François Lasnier et alii, Renoir au XXe siècle, exh. cat. Paris, Galeries nationales du Grand Palais, Los Angeles, Los Angeles County Museum of Art, Philadelphia Museum of Art, Paris, RMN, 2009.
Michael Raeburn (ed.), Renoir, exh. cat. Londres, Hayward Gallery, Paris, Galeries nationales du Grand Palais, Boston, Museum of Fine Arts, Paris, RMN, 1985.