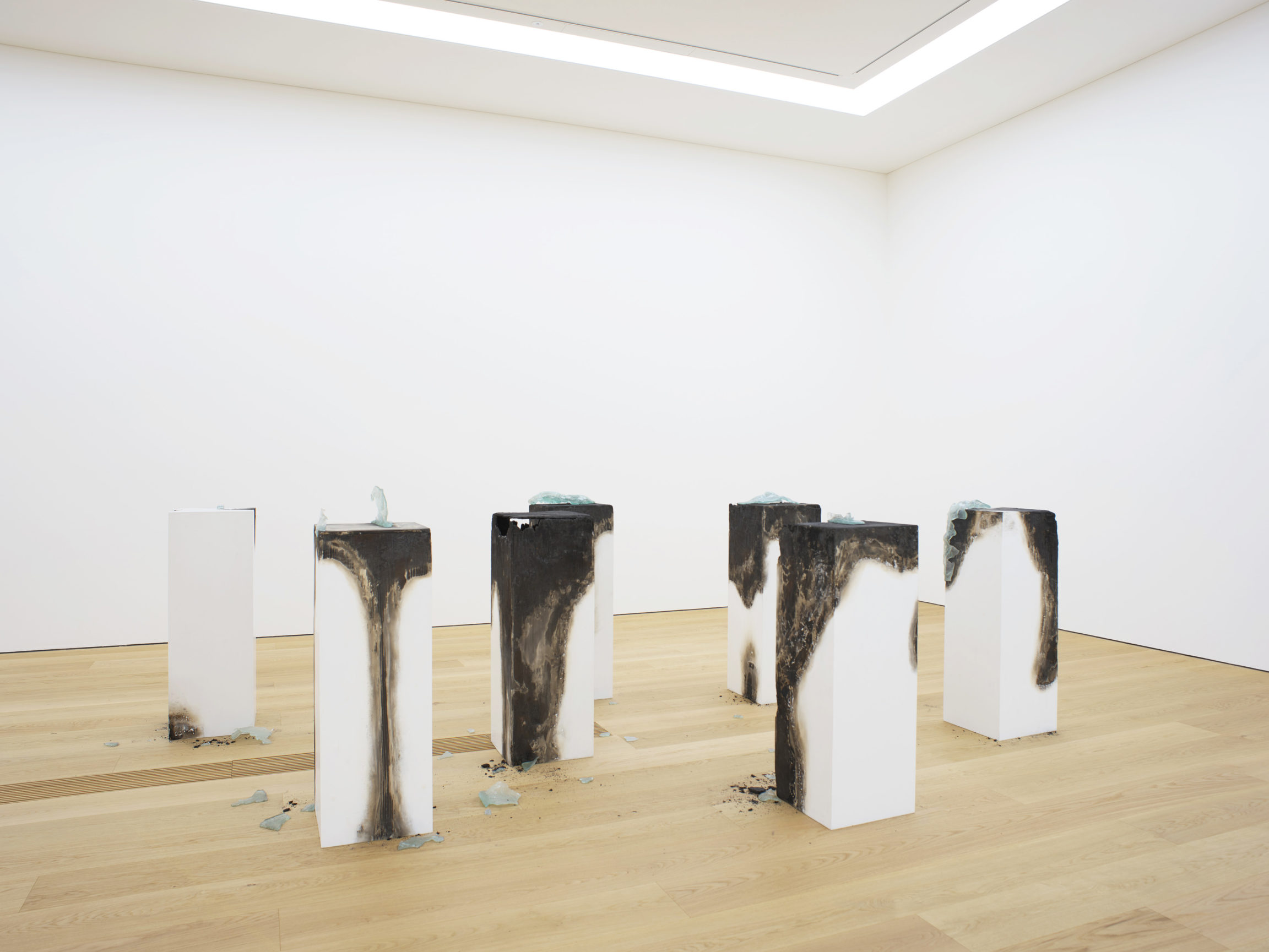 Sandrine Pelletier graduated in stage design from the Centre d'enseignement professionnel in Vevey in 1999 and in graphic design at the École cantonale d'art in Lausanne in 2002. Her first works were drawings, textile art, and embroidery, including portraits, crowd scenes, crystals, and animals bursting from a tangle of pencil strokes or threads. From around 2009 on, she turned to installations. Goodbye Horses (2009) lay at the turning point between the two creative periods: it comprised three horses fashioned from wire coated in latex and tar, galloping in mid-air, like silhouettes barely sketched in ink. The artist gradually made an increasingly confident use of space with monumental sculptures, sometimes in natural surroundings like forests and deserts, at other times in closed spaces with powerful architectural identities, such as churches and barns. She also made use of a wider range of materials, including wood, glass, mirror, metal, and ceramics, inflicting a certain brutality on them and exploring the aesthetic potential of damage.
Sandrine Pelletier has divided her time between Lausanne and Cairo since 2012. Egyptian culture has brought her into contact with new techniques and influenced her creative process. The installation The Deserted was created in Cairo with the collaboration of the artist Houreya El Sayed, one of the few women in the city to work with glass. The title evokes abandonment, the void, places deserted or almost devoid of human presence, that endure in terms of their own temporality. The seven elements in wood are plinths for sculptures, charred and covered in molten glass. The artist burned the glass bell on top of each plinth until the molten glass ran down the sides – a tricky stage, since it flows very fast – and damaged the plinth as it solidified. The powerful act of burning and destruction paradoxically gives rise to the potential for new shapes.
Bibliography
Laurence Schmidlin (ed.), Sandrine Pelletier. The Crystal Jaw, Lausanne, Musée cantonal des Beaux-Arts de Lausanne, 2021 (Espace Projet series, n. 3).
Bernard Fibicher, Atlas. Cartographie du don, cat. exp. Lausanne, Musée cantonal des Beaux-Arts de Lausanne, 2019: 57.