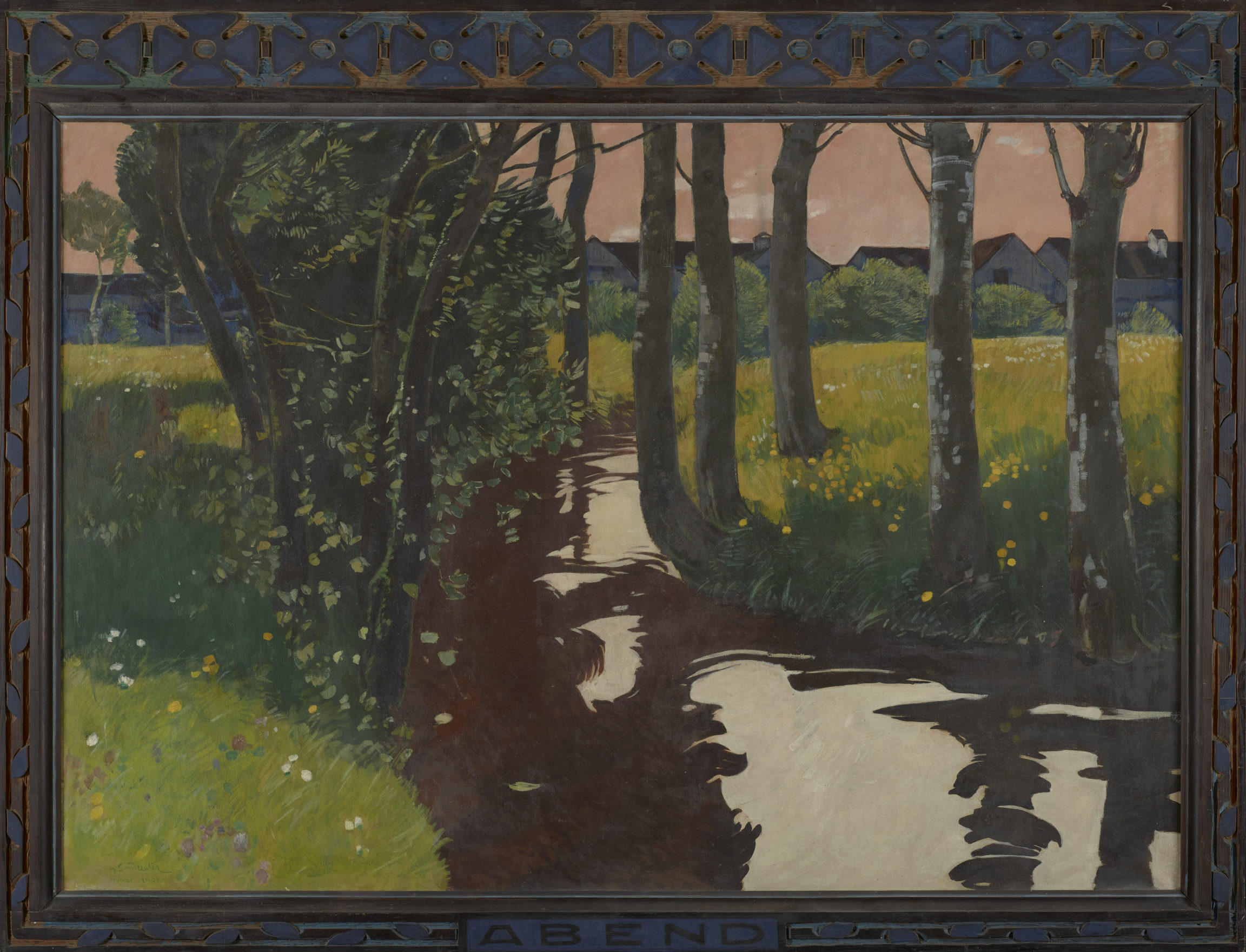 Hans Sandreuter received academic training in Munich, having travelled there in 1873 on the recommendation of his compatriot Arnold Böcklin. He later followed Böcklin to Florence before returning to live in Basel in 1855. The influence of the great symbolist master was long evident in his allegorical compositions, while his most personal work, in the realm of pure landscape, came relatively late in his career. The large canvases painted from nature in the 1890s tended towards monumentalism and stylisation, yet retained the freshness and spontaneity of observation of the living subject, which makes them original.
Abend was painted in Riehen, in the countryside around Basel where Sandreuter had built a house in 1898, for which he also designed all its decoration. Finished not long before his death, this work with its premonitory title could be considered a 'landscape of the soul', the kind of painting that originated with romanticism. The genre was at the heart of the symbolist imagination, where it informed poetry as well as painting and sculpture. In terms of portraiture, this meant that the soul was described as a landscape (a dark forest or stormy ocean), while in landscapes themselves nature became a mirror of the unconscious and receptacle of projections (conducive to reverie, suggesting mystery).
The horizon in this large-format painting is placed very high and the atmosphere is crepuscular, with the glow of the setting sun cooling the pink sky but still illuminating a flowering meadow, while projecting the shadows of the tall trees onto the surface of a winding river. A tension arises between the decorative stylisation, on the one hand, which heightens the parallel lines of the trunks and synthesises the planar forms of the shadows on the water, and, on the other hand, the naturalism, which focuses on the details and affirms the artist's temperament through its gesturality. The frame was carved by Sandreuter himself, who painted it in a blue colour reminiscent of his work in the applied arts.
Bibliography
 Bernd Wolfgang Lindemann, Fin de siècle in Basel. Hans Sandreuter 1850-1901, exh. cat. Basel, Kunstmuseum, Basel, Öffentliche Kunstsammlung, 2001: 46, n. 75.