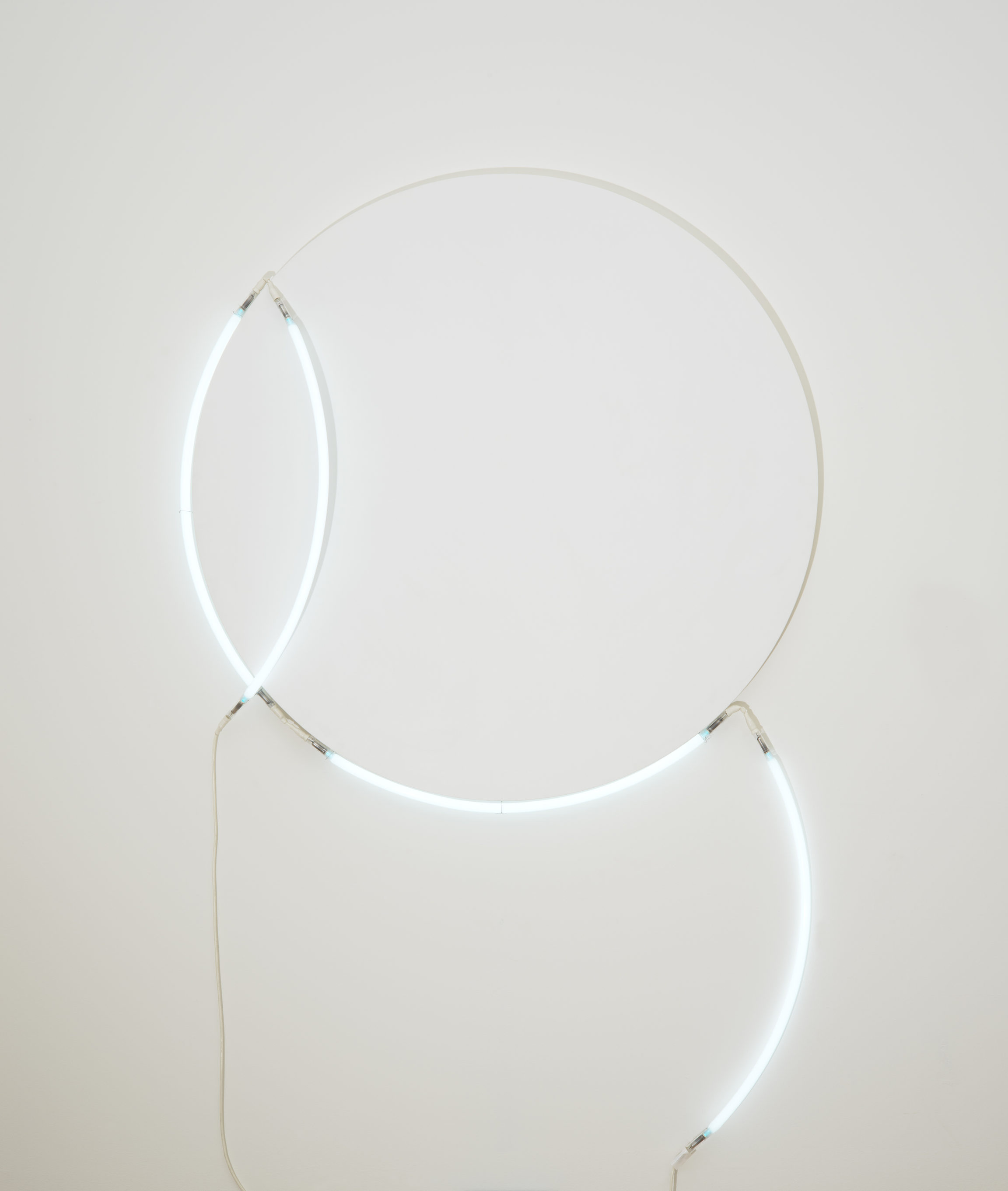 Despite the severe, bare appearance of his artistic language, François Morellet shows great invention and humour in his approach to geometrical abstraction. After a short figurative period in the late 1940s, the artist rejected expressiveness of style or brushstroke and, in evacuating these signs of subjectivity, followed instead the rigour of mathematics and geometry. In this he was influenced by his friend, the artist Pierre Dmitrienko, and by his discovery of Max Bill and Piet Mondrian. Another source of inspiration was the geometrical motifs that he observed in the productions of various cultures. While Morellet later subjected the making of his works to pre-established constraints, or rigid systems, he also included an element of chance in his approach, for example by using random distributions. In this way he developed a kind of absurd rationality.
Morellet first used neons in 1963, at a time when these tubes were coming to the fore in art (Martial Raysse, Dan Flavin, Mario Merz, etc.), and they remained a central part of his work thereafter. Décrochage no 4 belongs to a series that continues his experiments with light and the destabilisation of forms by means of superposition, juxtaposition or fragmentation. As the title of this work indicates – Morellet began using the names of his pieces to indicate the protocol they involved – it involves a décrochage, or unhanging, which means in this instance that two of the neon tubes fixed around the edge of a canvas painted in white acrylic have come loose. This organised catastrophe introduces disorder into order, and injects humour into seriousness. There is a kind of pleasure to be had in considering the way this circle gets out of kilter by breaking up and repositioning itself with an almost ornamental grace. The work shows no more than its constituent elements, yet it reorients them by means of a minimal intervention that is immediately comprehensible to the ordinary viewer.
Bibliography
Marie-Laure Bernadac, Caroline Joubert and Lauren Laz, François Morellet. L'esprit de suite, exh. cat. Caen, Musée des Beaux-Arts de Caen, Lyon, FAGE éditions, 2015.
Serge Lemoine, François Morellet, Paris, Centre national des arts plastiques, Paris, Flammarion, 1996 (coll. La création contemporaine).
Bernard Blistène and Catherine Grenier (eds.), Morellet, exh. cat. Paris, Musée national d'art moderne, Centre Georges Pompidou, Paris, Éditions du Centre Pompidou, 1986.