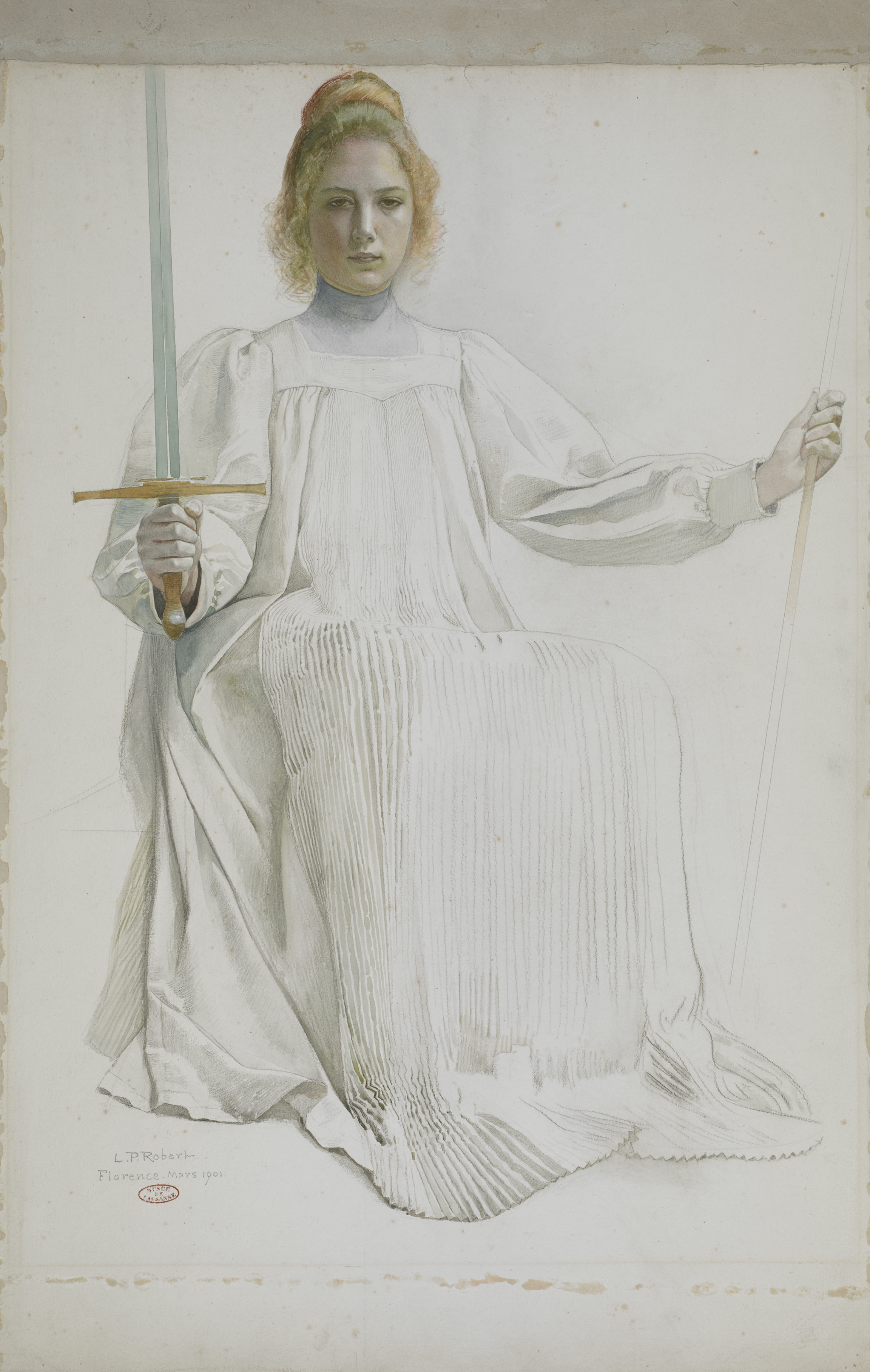 Léo-Paul Robert
Étude pour La Justice élève les nations (Study for Righteousness Exalteth a Nation), 1901
Léo-Paul Robert, a native of Neuchâtel, was born into a family of painters including his father Aurèle and his uncle Léopold. He studied in Munich and Florence before joining Jean-Léon Gérôme's studio in Paris. He won a gold medal in his first year at the Salon in 1877. He returned to Ried-sur-Bienne for good in the early 1880s, called back home by an apostolic vocation prompted by his deep Protestant faith.
By the time the Swiss Confederation came to give him a major commission for the Montbenon Federal Court in Lausanne in 1897, his work at the Neuchâtel museum had already earned him a solid reputation as a muralist. The two huge canvases La Justice élève les nations and L'Avènement de la Paix (The Advent of Peace), completed in 1906, still hang in the Montbenon Court stairwell. Robert was prey to terrifying, frenzied bouts of inspiration: he travelled to Florence on several occasions to study the work of Giotto, Fra Angelico, and Filippo Lippi. Suffering from ill health and a crisis in confidence, he took longer than expected to present his preliminary studies to the panel, doing so only in 1901. The iconography that emerged from this nightmarish period of gestation was so complex that the writer Philippe Godet published a brief pamphlet to explain it to the bewildered public.
The museum acquired a set of four preparatory sketches for the project at a sale held after Robert's death in 1924. The fine watercolour drawings take a step back from the academic model, their intimate realism verging on the visionary; they are almost Symbolist in their use of allegories replete with solemnity and noble humanism. This is the first sketch for one of the two women shown sword in hand at the top of the great canvas La Justice élève les nations, holding a banner giving the work's title over a snowy, mountainous landscape. In the final version, Robert clad the figure in heavy blue brocade robes to suit the painting's chilly palette of colours.
Bibliography
Laurent Langer, La peinture murale officielle suisse. La décoration intérieure de l'ancien Tribunal fédéral de Montbenon à Lausanne (1891-1906), mémoire de licence, Université de Lausanne, 2002.
L.- Paul Robert, exh. cat. Neuchâtel, Musée des Beaux-Arts, 1924: n. 542 B.
Philippe Godet, La justice et la paix : étude sur les peintures de Paul Robert au Palais de Justice, à Lausanne, Lausanne, Th. Sack-Reymond, Paris, Librairie Fischbacher, 1906.