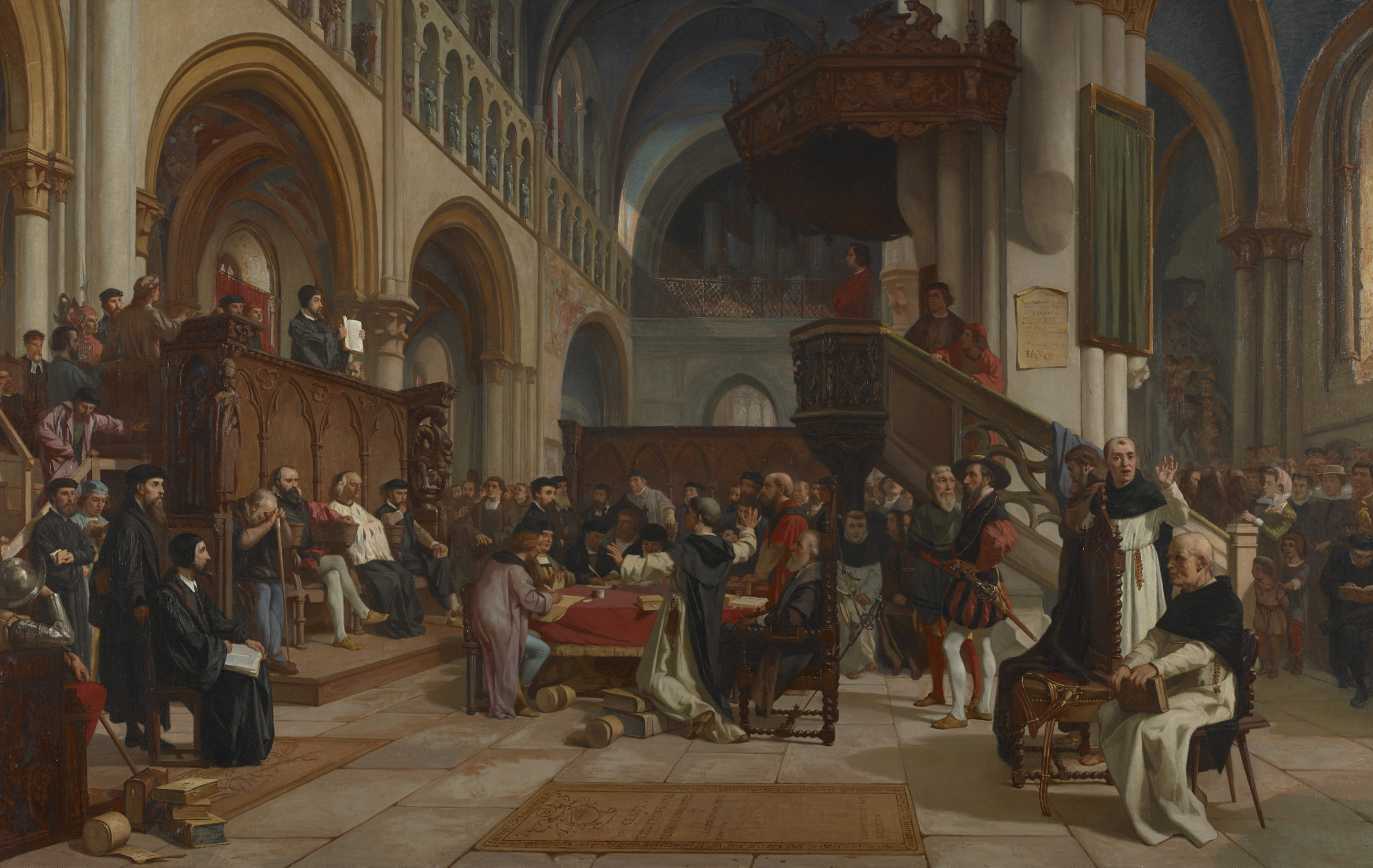 The lands now known as the Vaud belonged to the House of Savoy and the Lausanne bishopric until they were annexed by Bern early in 1536. The region's new masters set out to rally the population to support the Reform, ordering Catholic and Protestant representatives to Lausanne Cathedral in October 1536 for a disputation, or public debate. After eight days of verbal sparring, the reformist side, led by the theologians William Farel, Pierre Viret, and Jean Calvin, were declared the victors. Bern immediately put a stop to mass and stripped churches of their crosses, statues, and altars. By the end of the year, Catholicism was officially abolished by an edict.
This painting was commissioned by the State of Vaud in January 1853 to boost a young artist from Vaud. It is one of the rare history paintings Bocion completed after training in Paris. He read widely before starting, including research by the historian Louis Vulliemin, and produced multiple preparatory sketches in pencil and watercolour (also in the museum collections). The large-format work is strikingly careful in its use of description and shows the traces of Bocion's training in its composition: the Reformists in black are on the left and the Catholics, including a number of Dominicans, on the right, while onlookers cluster at the sides. The work features some awkward anachronisms – the pulpit dates from the seventeenth century, for instance – and the artist clearly struggled to fit the semi-circle of figures into the height and depth of the nave to meet the traditional layout for scenes of religious controversy established by Raphael's Disputation of the Holy Sacrament (1509-1510, Stanza della Segnatura, Vatican).
It may well have been dissatisfaction with the result that convinced Bocion to turn to landscape painting – a genre in which he was to excel.
Bibliography
François Bocion, au seuil de l'impressionnisme, exh. cat. Vevey, Musée Jenisch, Milan, 5 Continents, 2006, p. 21.
François Bocion, Du Léman à Venise, exh. cat. Lausanne, Fondation de l'Hermitage, La Bibliothèques des Arts, Lausanne, 1990.