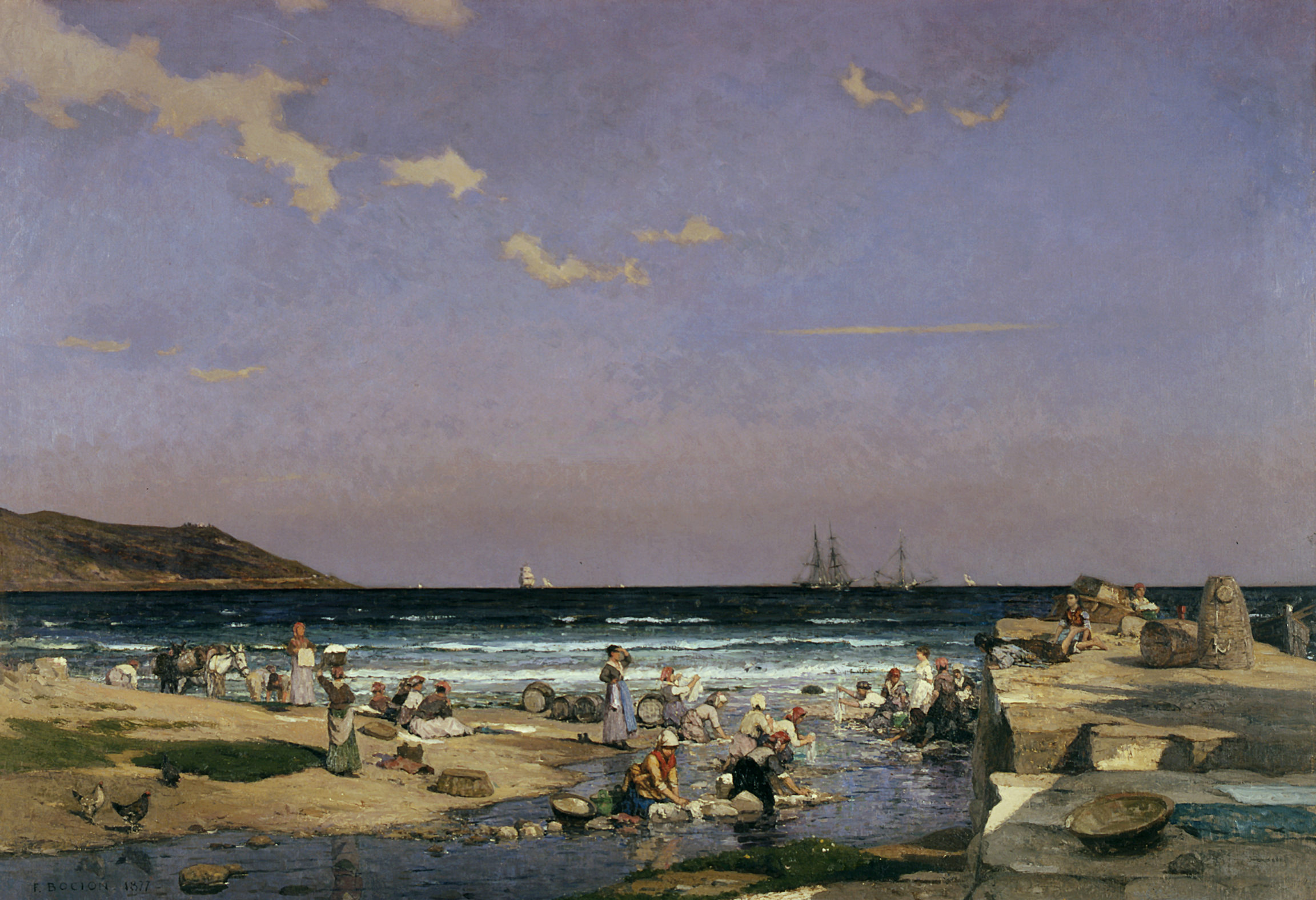 François Bocion rarely travelled far from Lake Geneva, the subject of most of his paintings. When he did venture away from his home region, he chose Venice and the Ligurian coast, bringing back studies and sketches from life. Back home in Switzerland, he would work them up into large canvases, some intended for exhibitions. One such was Washerwomen, San Remo, one of the ninety-three paintings selected to represent Switzerland at the 1878 Universal Exhibition in Paris.
Critics viewing Bocion's work in Paris realised they longed for the Alpine landscapes of François Diday and Alexandre Calame. Seeking a typically Swiss stamp in the work of Bocion and the other artists chosen to represent the confederation, they were unable to pin down a specifically "national" style. Bocion's work was clearly not specifically Swiss in its setting – San Remo bay, which he visited in the spring of 1877 – or in its subject of washerwomen at work. Bocion had a different objective: exploring new places opened up fresh avenues for inspiration.
The subject and composition may not have been highly original, but Bocion displayed great mastery of his art in capturing the waves lapping in the breeze and the detail of the masts in the distance. His handling of the brightly sunlit Mediterranean beach and the powerful interplay of light and shade show considerable skill. A near-identical version of this painting dating from 1880 is in the collection of the Musée Jenisch, Vevey.
Bibliography
Béatrice Aubert-Lecoultre, Carinne Bertola et alii, François Bocion. Au seuil de l'impressionnisme, exh. cat. Vevey, Musée Jenisch, Milan, 5 Continents Editions, 2006.
François Daulte and Patrick Schaefer, François Bocion. Du Léman à Venise, exh. cat. Lausanne, Fondation de l'Hermitage, Lausanne, La Bibliothèques des Arts, 1990.