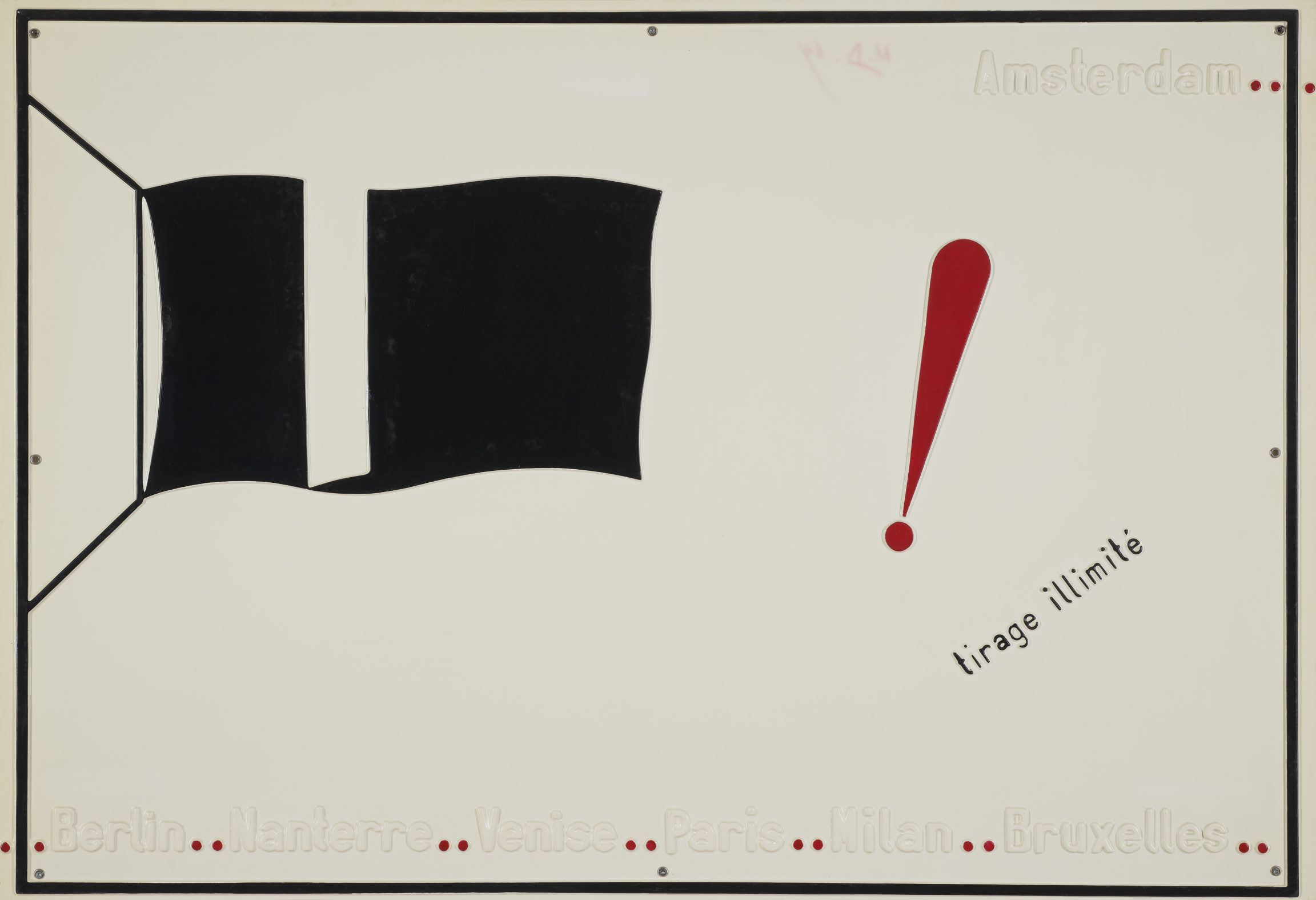 In 1968 Marcel Broodthaers started making plastic panels onto which he thermoformed texts sometimes accompanied by an image or punctuation marks, in the manner of rebuses or political or commercial slogans. He grouped this series of works together under the title Poèmes industriels (Industrial Poems).
Acquired by the Museum a year after its creation, Le drapeau noir is a major example of this series. Comprising a black flag divided by a white line and confronted by a big red exclamation mark combined with the words 'tirage illimité' (unlimited edition), the panel also bears the names of seven cities – Amsterdam, Berlin, Nanterre, Venice, Paris, Milan, Brussels – all of which were the scene of major uprisings during the protest movements of 1968. Seen in relation to the names of these cities, the flag can therefore be read as an explicit reference to the anarchist movements that it has symbolised ever since the late nineteenth century, and to its recuperation by the student movement in 1968.
Like the slogans that sprouted on walls, tirage illimité is an injunction to make a clean sweep of what makes a work of art, that is, its uniqueness. So it was that the artist stated in an interview in 1968: 'I don't believe … in the unique artist or the unique work of art. I believe in phenomena and in people who put ideas together.' Unlike certain of Broodthaer's plaques, limited to seven copies, no limits were placed on this one's numbers, giving it the status of a manifesto. Yet the 'pop' character of this work, like his other panels, with their palette of primary colours, use of industrial plastic, and playful rebus form, undermines the activist potential of the contents, underlining Broodthaers's scepticism about the utopia of a radical reformulation of social and artistic norms.
Bibliography
Marie-Puck Broodthaers, Marcel Broodthaers: livre d'images, Paris, Flammarion, 2013.
Rachel Haidu, Absence of Work: Marcel Broodthaers, 1964-1976, Cambridge/MA, The MIT Press, 2010.
Benjamin H. D. Buchloh, 'Open Letters, Industrial Poems,' October, vol. 42, Fall 1987: 67-100.