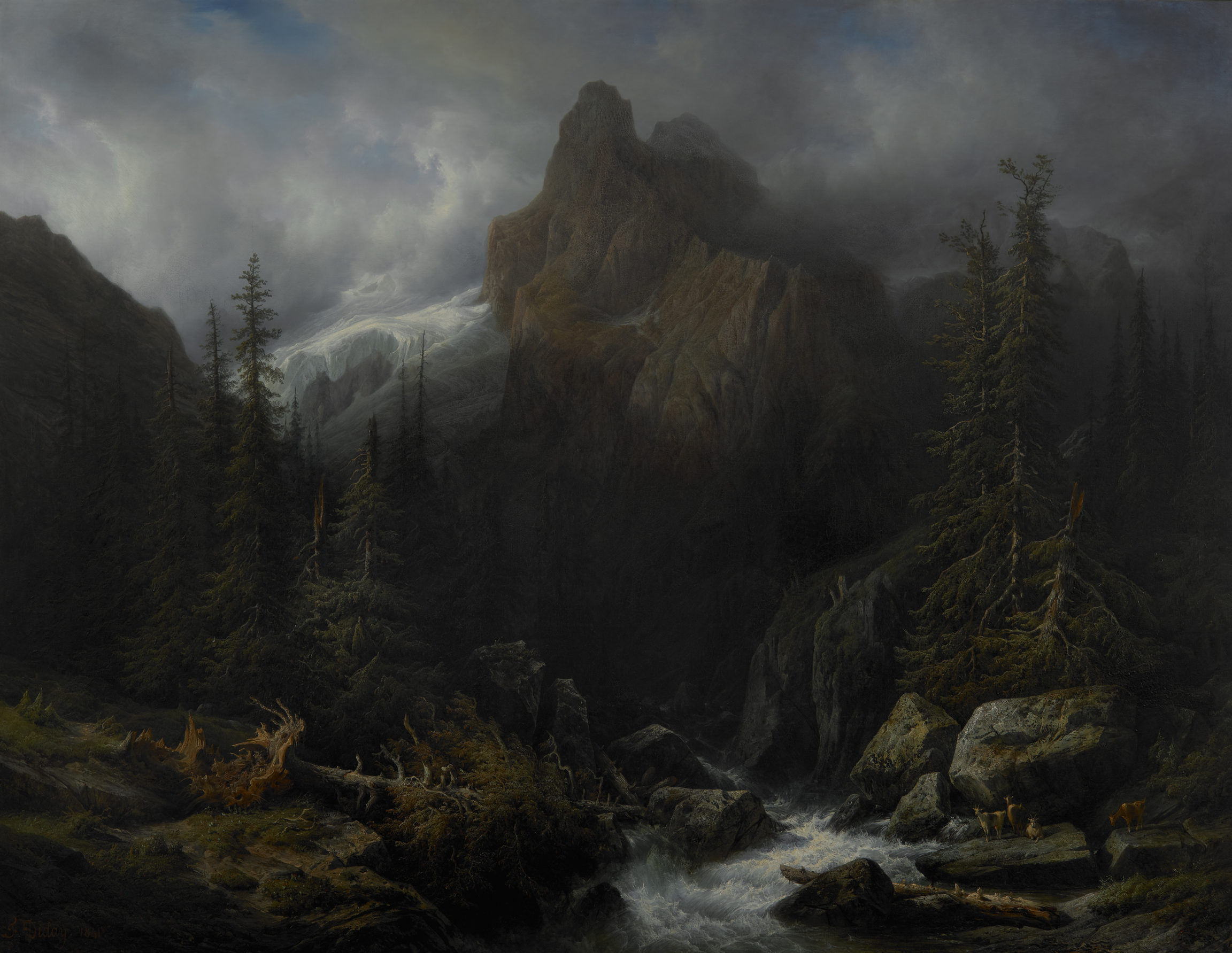 François Diday studied fine art in Geneva and then in Antoine-Jean Gros' studio in Paris. He showed his work regularly at the Paris Salon, where he presented this monumental Vue du glacier du Rosenland, dans le canton de Berne, en Suisse (View of the Rosenland glacier in the Canton of Bern, Switzerland), in 1841. The subject was designed to delight the Parisian judges, who had asked foreign entrants to showcase the specific characteristics of their national schools, particularly landscape features. The painting proved highly popular with visitors and sparked something of an Alpine tourism boom.
Diday and his pupil Alexandre Calame came to embody a new departure in Swiss landscape painting in the first half of the nineteenth century. From the late 1820s on, they set out to conquer the highest peaks, developing a style that perfectly married realism and romanticism. Starting with studies drawn from life, they returned to the studio to design large-format canvases that could almost have been stage backdrops. The paintings combine topographical description and sublime emotions, carefully orchestrating an image of grandiose nature in which man is conspicuous by his absence: vertiginous mountains, glowering clouds, trees bent double or ripped up by the roots, their branches torn off, thundering mountain torrents, and rocks with chamois goats perched precariously on them.
The artist's love of the landscape around Bern became clear very early on. Here he creates a pyramidal composition with the summit of the Wellhorn framed by fir trees. Other features typical of classical landscape painting include the use of contrasting light and shade from foreground to background and the brightly lit snow and foaming torrent.
King Louis-Philippe purchased Diday's Soir dans la vallée, Oberland bernois (Evening in the Valley in the Bern Oberland, now destroyed) at the 1840 Salon. The Canton of Vaud followed suit the following year, reserving this Glacier du Rosenlaui for its Museum.
Bibliography
Alfred Schreiber-Favre, François Diday, Geneva, Alexandre Jullien, 1942.
Beat Stutzer, Der romantische Blick, das Bild der Alpen im 18. und 19. Jahrhundert, exh. cat. Chur, Bündner Kunstmuseum, 2001.