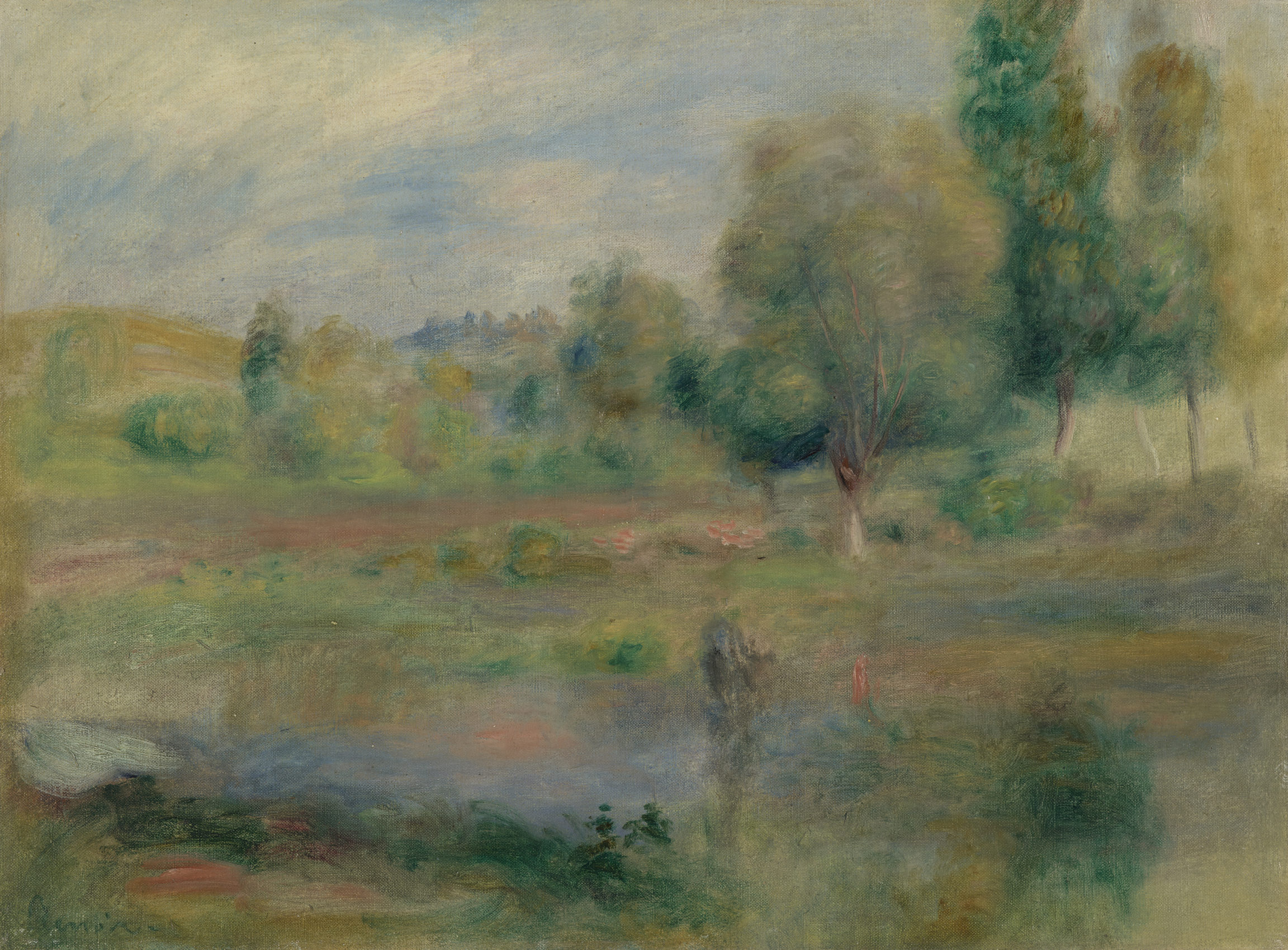 In the early 1860s, landscape painting was a way for Auguste Renoir, then a fledgling artist, to paint out in the open air. He would set out with Claude Monet, Frédéric Bazille, and Alfred Sisley, his fellow students at Charles Gleyre's studio, to paint from life in the forest of Fontainebleau, south-east of Paris. He gradually distanced himself from the style of Gustave Courbet and the Barbizon school, typified by artists such as Jean-François Millet and Théodore Rousseau, carving out his own path alongside the future Impressionists. In 1869, he and Monet visited La Grenouillère, a well-known boating and bathing spot not far from Paris to experiment with capturing the shifting light and shade in bright colours. Monet sought to render the diffracted light in juxtaposed dabs of paint; Renoir's light was more enveloping and his brush strokes broader and softer.
These soft, harmonised strokes, not unlike watercolours, allowed Renoir to portray a shimmering natural scene in this Paysage, le lac [Landscape, the lake] Renoir was by this point a past master in genre scenes and landscapes featuring human figures, yet in this painting he chose not to tell a story. Rather, he focused on nature itself, seeking to render the light filtering through the foliage and the tall grass and the relationship between the various hues of green and the warmer colours. He deliberately avoided taming the landscape or industrialising it with factory chimneys in the distance, as Monet and Camille Pissarro did. He painted a timeless landscape in a narrower, more muted palette, typical of many of his smaller works from 1888 on.
Bibliography
Cécile Bertan, Daniel Marchesseau et alii, Renoir, exh. cat. Martigny, Fondation Gianadda, 2014, p. 173.
Michael Raeburn (ed.), Renoir, exh. cat. Londres, Hayward Gallery, Paris, Galeries nationales du Grand Palais, Boston, Museum of Fine Arts, Paris, RMN, 1985.