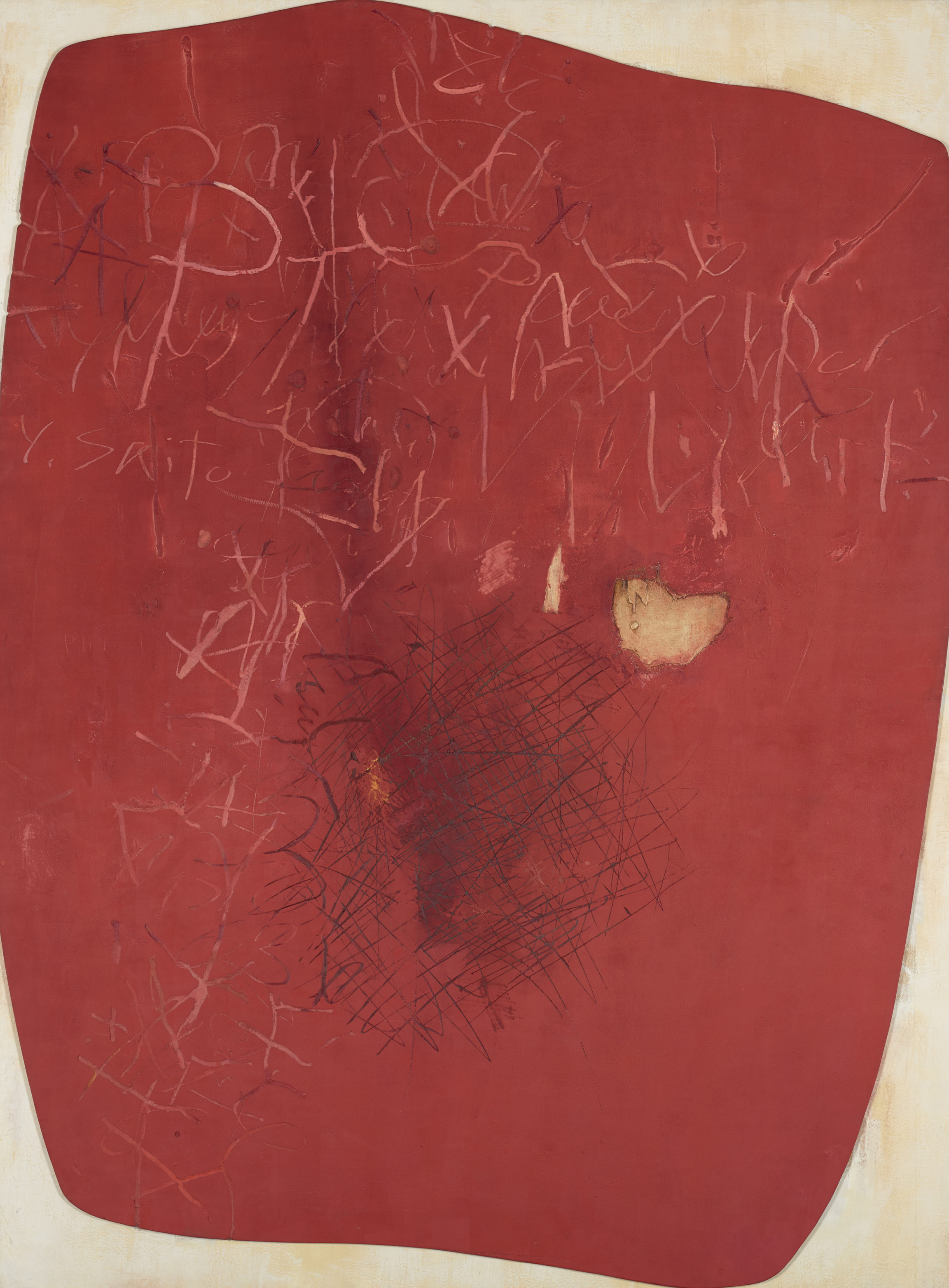 Yoshishige Saito, like his contemporary Jirō Yoshihara, played a pivotal role in developing abstract art in Japan. He began painting as a teen, discovering an interest in Western avant-garde movements such as Futurism, Dadaism, and Constructivism. He learned about them mainly from reading, seeing reproductions, and visiting exhibitions by artists in exile, such as a 1920 show by the Russian David Burliuk. He then focused on writing novels for a decade, before returning to the emergent Japanese avant-garde movement and creating abstract reliefs. After the Second World War, he settled in the tiny fishing village of Uruyasu and produced figurative works for a short while. He enjoyed considerable success in the late 1950s, by which time he had already returned to a more expressive form of abstraction, showing his art not only in Japan, but internationally.
When the Tokyo Gallery was invited to take part in the 1st Salon international de galeries pilotes in Lausanne in 1963, its director chose to showcase Saito, though he was already nearly sixty. Twenty-three of his paintings on wood, all dating from that same year, made the journey to Lausanne. Saito had recently begun working on a series combining calligraphy and his discovery of Lucio Fontana's perforated and slashed works at the 1960 Venice Biennale. He worked on wood, using a drill to perforate and groove the surface and scrape colour from it. Peinture superimposes two boards. The first rectangular board is painted white: it contains and softens the internal agitation of the second, a large, irregular, floating shape painted bright red – a colour that saturated Saito's oeuvre in this period. The surface is scattered with black and white marks, generating non-linguistic signs that are swiftly, almost violently, laid down on the paint.
Bibliography
David Juda, Yoshishige Saito: Time Space Wood, exh. cat. London, Annely Juda Fine Art, 2008.
Yves Aupetitallot, René Berger et alii, Inside the sixties: g.p. 1.2.3. Le Salon international de galeries-pilotes à Lausanne/1963,1966, 1970, exh. cat. Lausanne, Musée cantonal des Beaux-Arts, 2002: 98, n. 74.
Miki Tamon, SAITO Yoshishige Exhibition 1978, exh. cat. Tokyo, The National Museum of Modern Art, 1978.