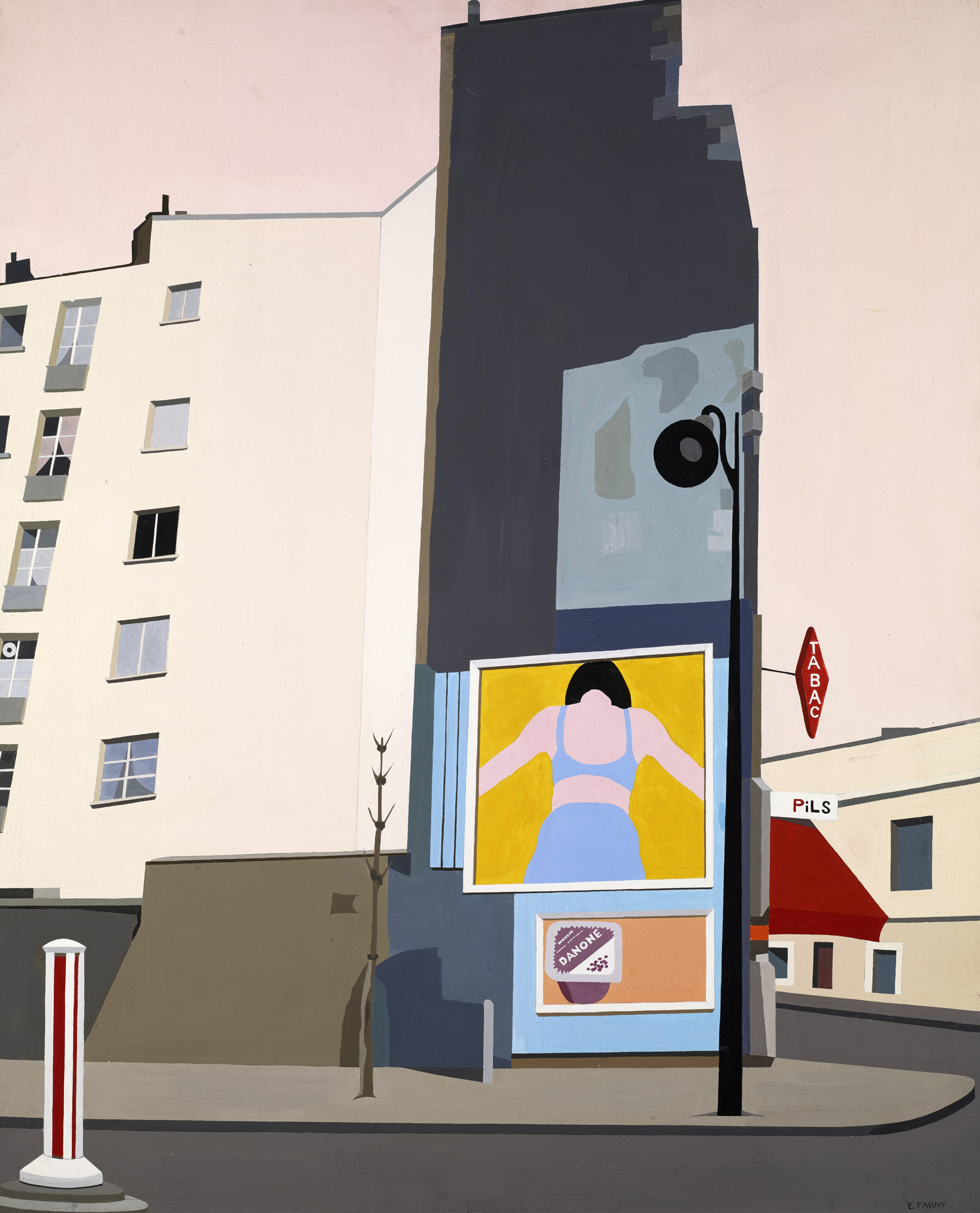 From 1962 to 1972 Émilienne Farny lived in Paris, in the 14th arrondissement. As a painter, her focus was always on reality. In the French capital she found a big city in the throes of change, with the alternation of old neighbourhoods and construction sites, bared façades and the irruption of giant advertisements – in a word, the contemporary urban scene in all its violence and beauty. Another decisive discovery was American pop art, then being brought to Paris by exhibitions of Robert Rauschenberg, Andy Warhol, Roy Lichtenstein and Tom Wesselmann at the Ileana Sonnabend gallery. Finally, Adam Montparnasse, where Farny purchased her supplies, started selling acrylic paint. The artist had found both a new theme and the idea of a new figurative style.
Rue de l'Armorique (Façade) is one in a series of works showing the fronts of houses, car parks and factories. The painting clearly shows her debt to pop art, but also the individuality of her style. Rather than sticking to the hallowed themes of the new American painting – advertising, comics and gadgetry – as did many other Swiss and French painters of her generation, she represented her immediate surroundings with great documentary precision.
As in all the paintings from this series, the street here is deserted, devoid of both pedestrians and cars. Perhaps the artist felt that such anecdotal presences would distract viewers from the pictorial idea. In any case, this absence brings out a sociological, economic and ideological reality that is signalled by its heterogeneity: the syncopated times of old Paris and property speculation, the irruption of advertising and road signage, a dead tree heralding ecological concerns, etc. Likewise, the coherence of the coloured surfaces, fitting together like the pieces in a puzzle, paradoxically highlights the disparities of the urban landscape.
Bibliography
Pierre Starobinski and Michel Thévoz (eds.), Émilienne Farny, Bern, Till Schaap, 2017.

Michel Thévoz, Émilienne Farny et l'oiseau noir, Lausanne, art&fiction, 2015.
Alain Jouffroy, Bertil Galland et alii, Émilienne Farny. Paysage après meurtre, Lausanne, Kesselring, 1989.