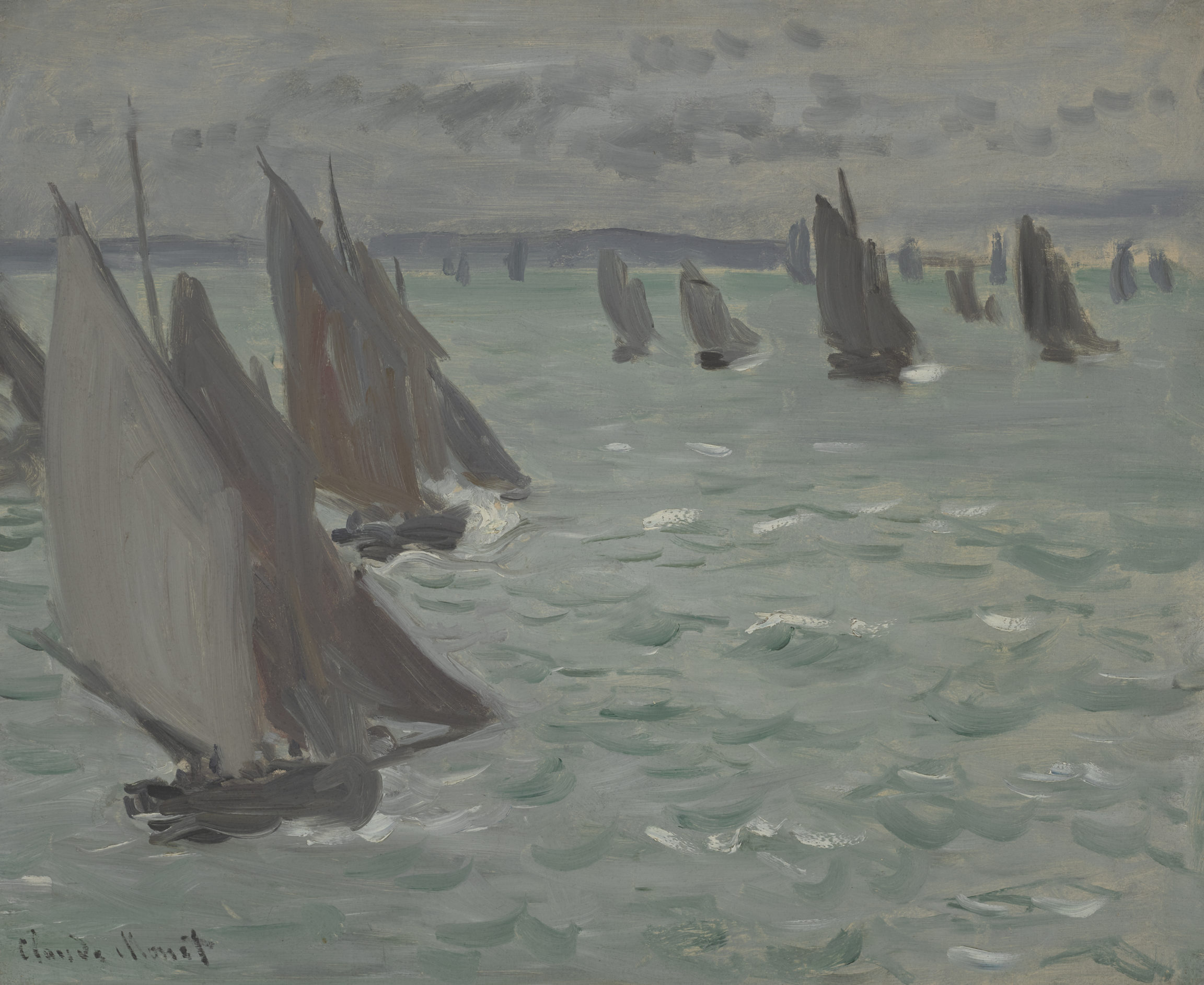 After several years in Paris, Claude Monet returned to Le Havre for a few months in the summer of 1862. He went painting along the Normandy coast with Johan Barthold Jongkind, studying the rugged cliffs and constantly shifting play of light and waves on the sea. In May 1864, he and his fellow painter Frédéric Bazille moved into the Saint-Siméon farm in Honfleur, on the other side of the Seine estuary, a spot popular with landscape painters including Camille Corot, Charles-François Daubigny and Gustave Courbet.
Monet spent every summer season working on numerous studies between Honfleur and Le Havre, starting his paintings out in the open. He also worked up his sketches in the studio, building on the tradition of the heroic landscape that dated back to the seventeenth century. The seashore and the open water beyond it were his favourite subjects.
Late in 1868, Monet was living in Étretat when he painted three canvases depicting fishing boats setting out to sea. He was at pains to capture the fleeting shimmer of light on the waves, studying the effect of wind as it ruffled the water, scudded the clouds across the sky, and swelled the sails. The swift brushstrokes mimic the boats skating across the waves. The horizon is very high, reflecting the influence of Japanese prints on Monet's 1860s seascapes, while the broad strokes in hues of blue-grey and brown are comparable to Édouard Manet's works of the same period. Monet builds shapes through colour rather than lines and contours. The swift dabs of the brush give the impression of spontaneity. The creative process is both free and utterly controlled: a number of preparatory pencil sketches for this painting feature detailed studies of the various boats.
Bibliography
Georges T. M. Shackelford, Monet: The Early Years, exh. cat. Fort Worth, Kimbell Art Museum, San Francisco, Fine Arts Museum, New Haven, Yale University Press, 2016.
Dominique Lobstein, Sylvie Patry et al., Un été au bord de l'eau: loisirs et impressionnisme, exh. cat. Caen, Musée des Beaux-Arts, Paris, RMN, 2013.
Sylvie Patin, Sylvie Patry et al., Monet : 1840-1926, exh. cat. Paris, Galeries nationales du Grand Palais, RMN, 2010.