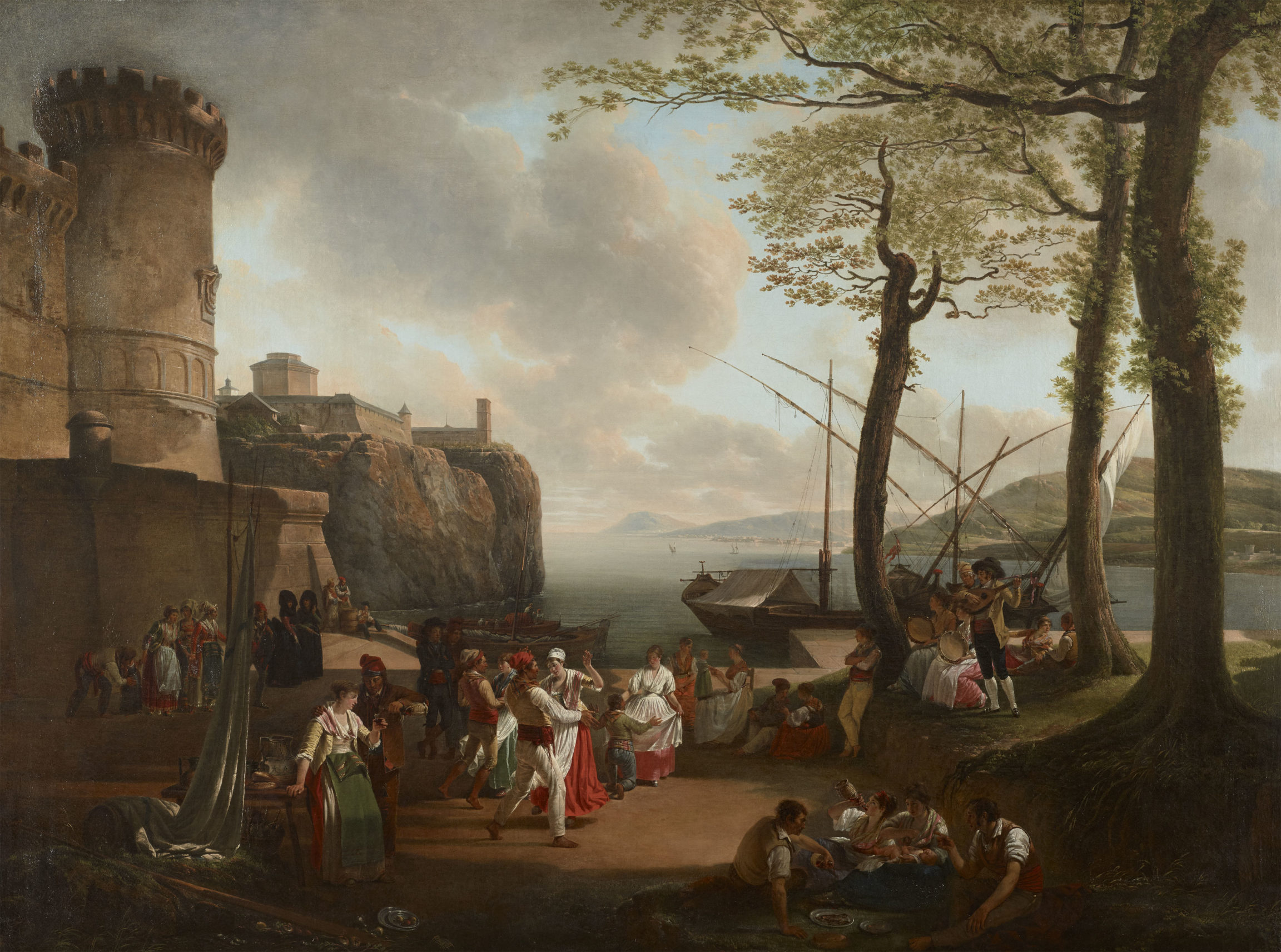 Forced to flee Rome due to repercussions from the French Revolution, Jacques Sablet arrived in Paris in January 1794. There he was accepted into the Société populaire et républicaine des arts and regularly exhibited exotic scenes that were extremely well received by the audiences. At the Salon of Year V (1796) he enjoyed great success with Le colin-maillard (Blind Man's Bluff, c. 1790, held at this museum), a fête galante transposed into an Italian garden.
This Tarentelle, or Bord de mer au crépuscule avec paysans napolitains dansant la Tarantella (Seaside at Dusk with Neapolitan Peasants Dancing the Tarentella) is one of the most ambitious and accomplished works from the artist's late period. It is a variant on the Danse à Naples he painted in Rome in 1784, which was acquired by King Gustav III of Sweden (Drottningholm Palace, near Stockholm). Here, Sablet has placed his scene by the sea, between Rome and Naples, at the foot of the fortress of Gaeta. Some thirty figures have gathered for the tarantella, the popular Neapolitan dance accompanied by guitar and Basque tambourines for the rhythm. This work sees the Swiss painter playing the card that had made his reputation in Paris, that of the contemporary genre scene with picturesque costumes, bathed in the handsome light that earned him the nickname 'painter of the sun'.
When La tarentelle was exhibited at the Salon of the Year VII (1799), critics praised its composition, its colours and the naturalness of the poses: 'This picture skilfully paints nature and the sun shining with all its light; the daylight is pure, the hues of the shadows very well judged; the landscape is piquant and filled with diverse details; the group of musicians is the most felicitously arranged of all.' A great admirer of Sablet, who advised him on his acquisitions, Cardinal Joseph Fesch, the uncle of Napoleon Bonaparte and one of the greatest collectors of the day, acquired La tarentelle after the artist's death for what at the time was the astronomical sum of six thousand francs.
Bibliography
Anne van de Sandt, Les frères Jacques et François Sablet. Collections du Musée des Beaux-Arts de Lausanne, Les Cahiers du Musée des Beaux-Arts de Lausanne 19, 2015.
Philippe Costamagna (ed.), Le cardinal Fesch et l'art de son temps: Fragonard, Marguerite Gérard, Jacques Sablet, Louis Léopold Boilly, exh. cat. Ajaccio, Musée Fesch, Paris, Gallimard, 2007: 46-49.