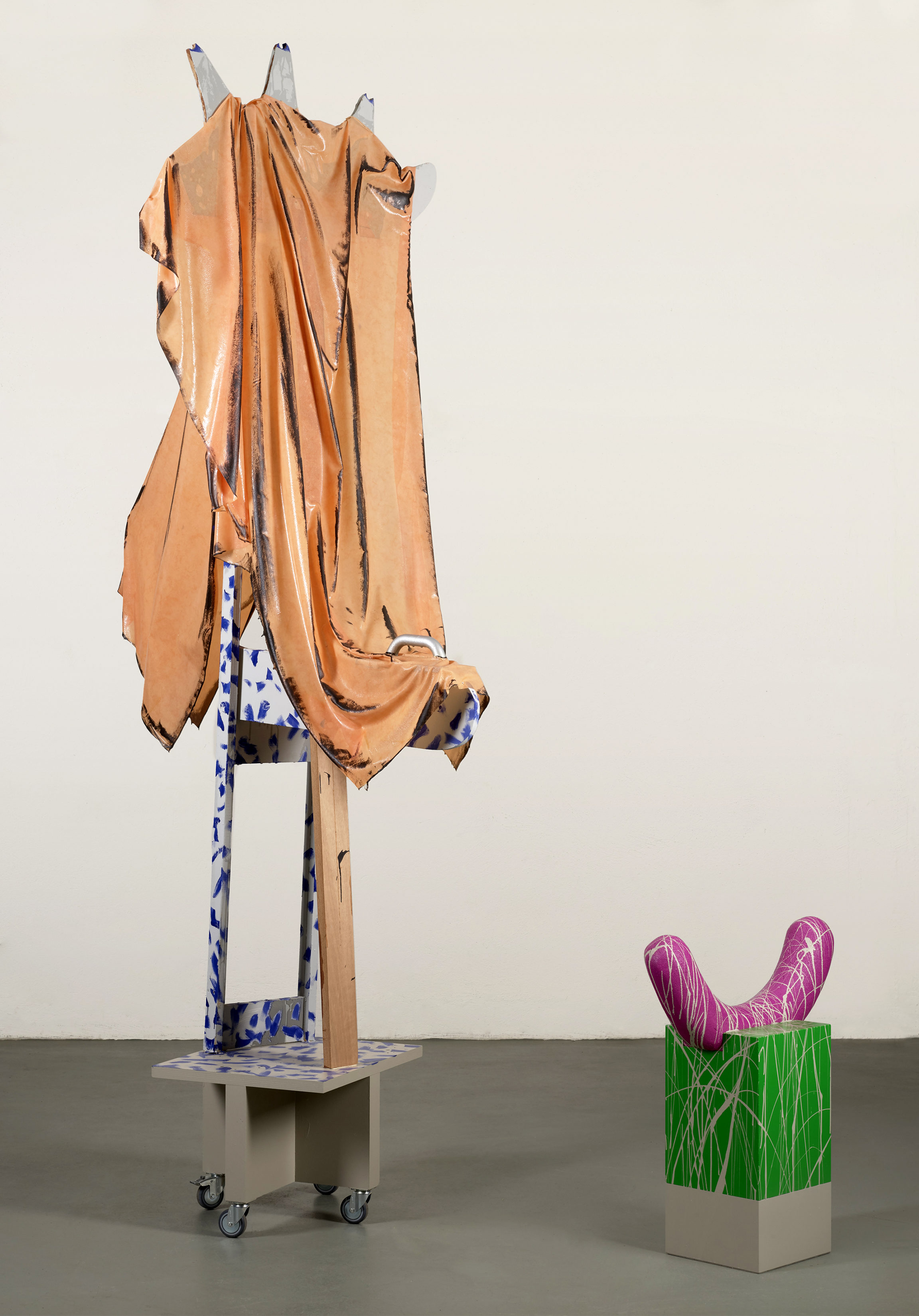 A graduate of the École cantonale d'art de Lausanne and the San Francisco Art Institute, Christopher Füllemann works at the intersection of sculpture and performance. Ephemeral or fragile materials (wax, latex, mirror glass, fabric and ceramics) combine with bright colours to exist in space, not as isolated objects, but as so many elements of a movement of which the viewer is an integral part.
Thus, for his exhibition Forms and Lovers, held at the Museum in 2013, Füllemann created a series of seven monumental sculptures, among them The Peeks and the Kiss. The artist froze in mid-movement an orange fabric with folds underscored in blue, draped over a wooden structure crowned with spines and suggesting a ladder – and treated it with epoxy resin. On an arm of the structure, a metal handle is placed at hand-height, whereas the sculpture rests on a base fitted with casters. As the artist formulates it in a statement of intent from 2012, the idea is not only to evoke the possible feel or movement of the sculpture, but also to allow the viewer to genuinely activate it: 'The anthropomorphic aspect of my works, evoked both by their form and by their dimensions, results from a desire to see these three-dimensional collages as performers.' And in fact, The Peeks and the Kiss occupies space like a monumentally proportioned dancer. The dynamic relationship between immobility and movement, between viewers' bodies and the body of the sculpture, between the space occupied by the work and the potential space of its displacement, is perceptible. The only thing grounding it in a precise place is the chair that comes with it: You and Me Both (Green and Purple), a coloured cube with a half-moon set into it in the style of Franz West. But if Füllemann's work lays claim to a heritage, it is that of the 'eccentric abstraction' of an Eva Hesse or a Bruce Nauman, somewhere between the visual and the tactile, the conceptual and the sensual, abstraction and figuration.
Bibliography
Daniel Morgenthaler, 'Christopher Füllemann – Der Haken an der Skulptur,' Kunstbulletin, n. 7-8, July-August 2014: 108-109.
Katharina Holderegger Rossier, 'Christopher Füllemann,' Kunstbulletin, n. 3, March 2013: 63.