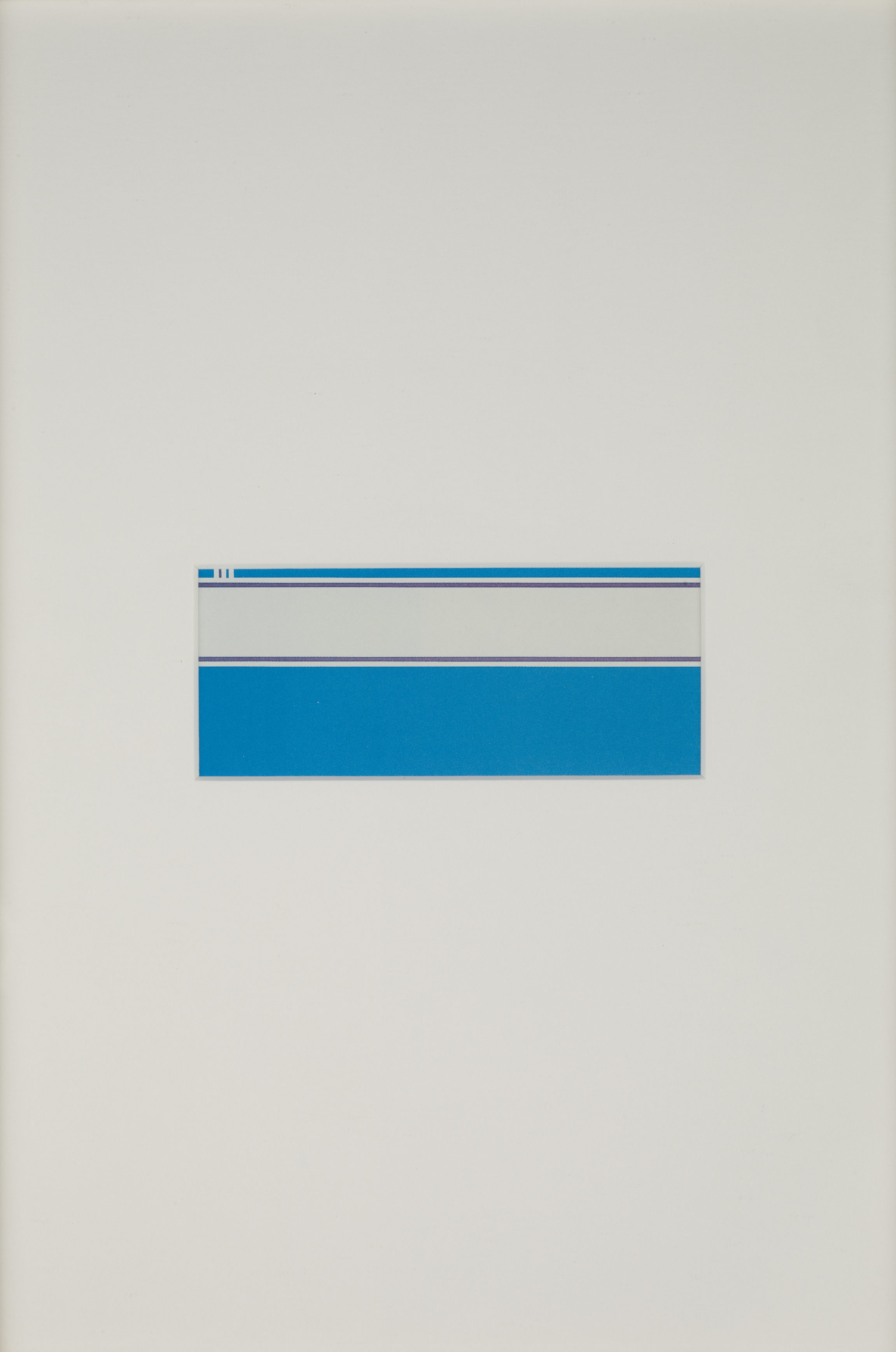 Francis Baudevin creates paintings, wall paintings, and prints following a process he settled on in 1987. He seeks out abstract forms in the visual realm that surrounds us, in packaging, logos, album sleeves, and the like, then removes the lettering and blows them up to a large-scale format while retaining the original structure and colours. In a way, he is taking them full circle, since the graphic designs he borrows owe much to abstract art in the first place. The range of media he works in is likewise inspired by advertising, which comes in numerous formats.
This untitled work takes the process a step further by taking as its subject one of his own canvases. He took a copy of his own painting Néo-Codion (1993, Paris, Centre national des arts plastiques), printed in the catalogue for his 1997 exhibition Yeah, and exposed it to the sun over the course of several summers. The copy was on a 1/10 scale to the painting, the same size as the medicine packaging that inspired it in the first place.
The process drew on a phenomenon Baudevin spotted in hairdressing salons: the photos on display in the windows change colour over time. The cyan ink is the most resistant, hence the predominance of blue. For Baudevin, the sun-exposed paper counts as a drawing in its own right: it is a relatively small work coloured by a process he compares to watercolour. He is still using the same technique today, since it gives him the impression of working at sunrise. When he gets to his studio in the morning, the catalogue pages are already changing.
Baudevin's works are all unique, compared to the thousands of copies of the packaging and album sleeves that inspire him. Similarly, by exposing a work from a catalogue with a print run in the thousands to sunlight, he creates a unique artwork.
Bibliography
Lionel Bovier (ed.), Francis Baudevin. Miscellaneous Abstract, exh. cat. Genève, Société des Arts, Zurich, JRP Ringier, 2009.
Valérie Mavridorakis, Catherine Perret et alii, Peter Kogler, Stéphane Dafflon, Francis Baudevin, exh. cat. Nice, Villa Arson, 2002.
Yeah : Francis Baudevin, 9th International Triennale New Delhi, Berne, Office fédéral de la culture, 1997.