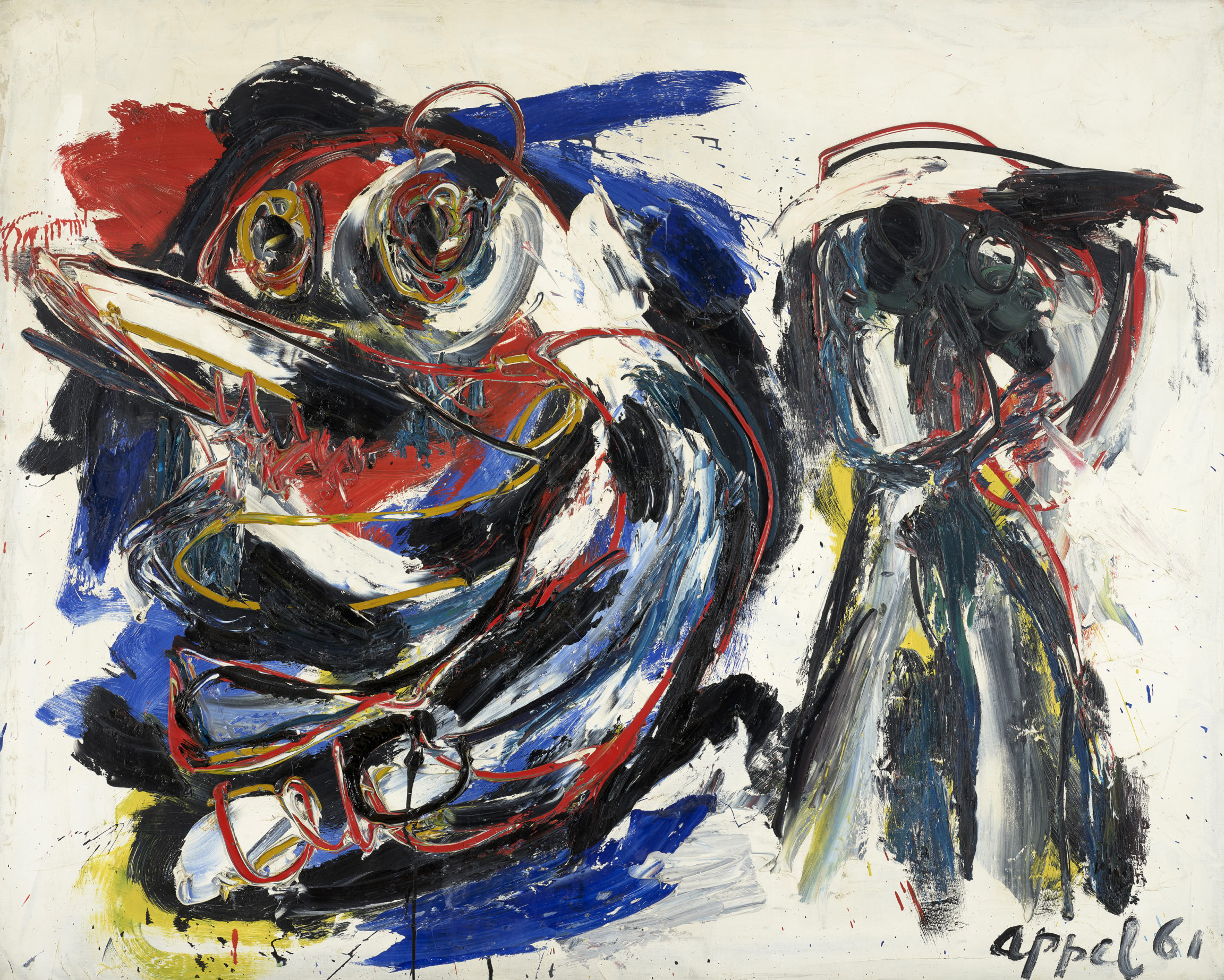 Karel Appel reacted to the devastation of the Second World War by creating paintings that grappled with the savagery of his experiences while expressing the great joy of painting. 'I paint like a barbarian in a barbarian age', he told André Verdet. Having acquired a solid background in painting, he aspired to unlearn what he knew and rediscover the spontaneity of childhood art.
The urge to break free of the norms of bourgeois art led him to found the Nederlandse Experimentele Groep (Dutch Experimental Group) with Constant Nieuwenhuys and Corneille in Amsterdam in July 1948. In November that same year, the three artists helped found the CoBrA movement (its name referring to Copenhagen – Brussels – Amsterdam) in Paris, with poets and artists including Pierre Alechinsky, Christian Dotremont and Asger Jorn.
Varkensmens features Appel's typically bright colours, such as blue and red, as well as grey. As he explained to Frédéric de Towarnicki, 'Colour is indeed my first stimulant. It strikes me first, then comes the shape, in other words the drawing, and when the drawing begins to take shape, I interpret the story.' This reveals the influence of Henri Matisse's colourism: Appel had seen his work in Amsterdam shortly before the war. As always in his oeuvre, the excess of shapes and colours works towards a crude, roughly outlined face. The features of this Varkensmens ('pig man' in Dutch), with a thick neck and raised fist, are so coarse as to be ridiculous. The swift brushwork may look daubed on, but the work is by no means naïve. The shapes in Appel's work stand at the limit of legibility. He sketches in a figure with a few swift strokes that construct, create, denature and destroy the human presence.
Bibliography
Choghakate Kazarian (ed.), Karel Appel, exh. cat. Paris, Musée d'Art Moderne de la Ville de Paris, Paris, Paris Musées, 2017.
Karel Appel, Frédéric de Towarnicki and André verdet, Propos de liberté de Karel Appel 1974-1984, Paris, Éditions Galilée, 1985 (coll. Écritures/Figures).