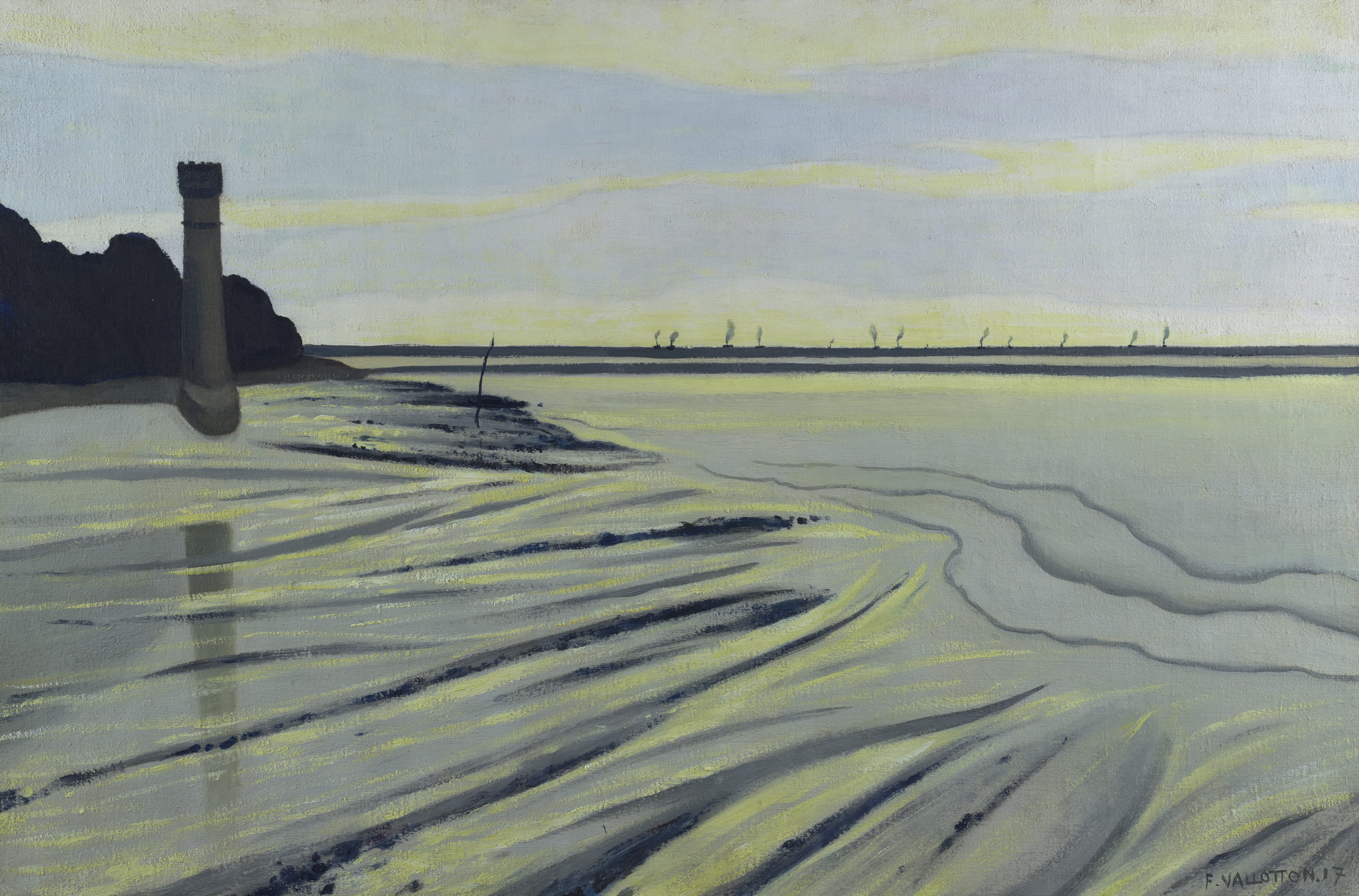 Félix Vallotton's visits to Honfleur were seminal in the development of his composite landscapes. He also conducted further research in his Normandy studio, exploring ways of depicting warfare, translating notes jotted down in his diary and quick drawings from his sketchpad dating from two weeks in June spent travelling round the combat zone in eastern France. Honfleur and the summer of 1917 also saw him painting still lifes, nudes, and landscapes whose leaden, sometimes melancholy atmosphere alluded to the tragic events of the time.
In Vases de Honfleur, a navy flotilla is at anchor offshore in the Le Havre bay, ready to intervene. To the left, in the shade, the silhouetted Honfleur lighthouse looks like a crenellated tower, a pitiful defence against the vastness of the ocean. The lines carved into the mud by the ebb and flow of the tide are a visual echo of the clouds. Water and sky are in the same palette of yellows and pale greys. In the foreground, long brush strokes of black indicate where buried alluvial sediments have risen to the surface and form two lines across the horizon. They form an impenetrable barrier between sea and sky and generate an ominous atmosphere. The ships seem to be mired in mud laid down over centuries, as in the Seine estuary. The calm sea, cool light, damp air, and time at a standstill all suggest an immediate change for the better is out of reach. It will be a long wait.
The mysterious, eerie ambiance, stylised shapes handled as masses, sinuous black lines, and the palette verging on monochrome are all reminiscent of the Belgian artist Léon Spilliaert's seascapes: like him, Vallotton seeks to capture an emotion, in the Symbolist tradition.
Bibliography
Marina Ducrey, with the collaboration of Katia Poletti, Félix Vallotton, 1865-1925: l'œuvre peint, 3 vol., Lausanne, Fondation Félix Vallotton, Zurich, Institut suisse pour l'étude de l'art, Milan, 5 Continents Éditions, 2005: n. 1186.
Marina Ducrey, Félix Vallotton, 1865-1925: Honfleur et la Normandie, exh. cat. Honfleur, Musée Eugène Boudin, Arcueil, Anthèse, 1999.