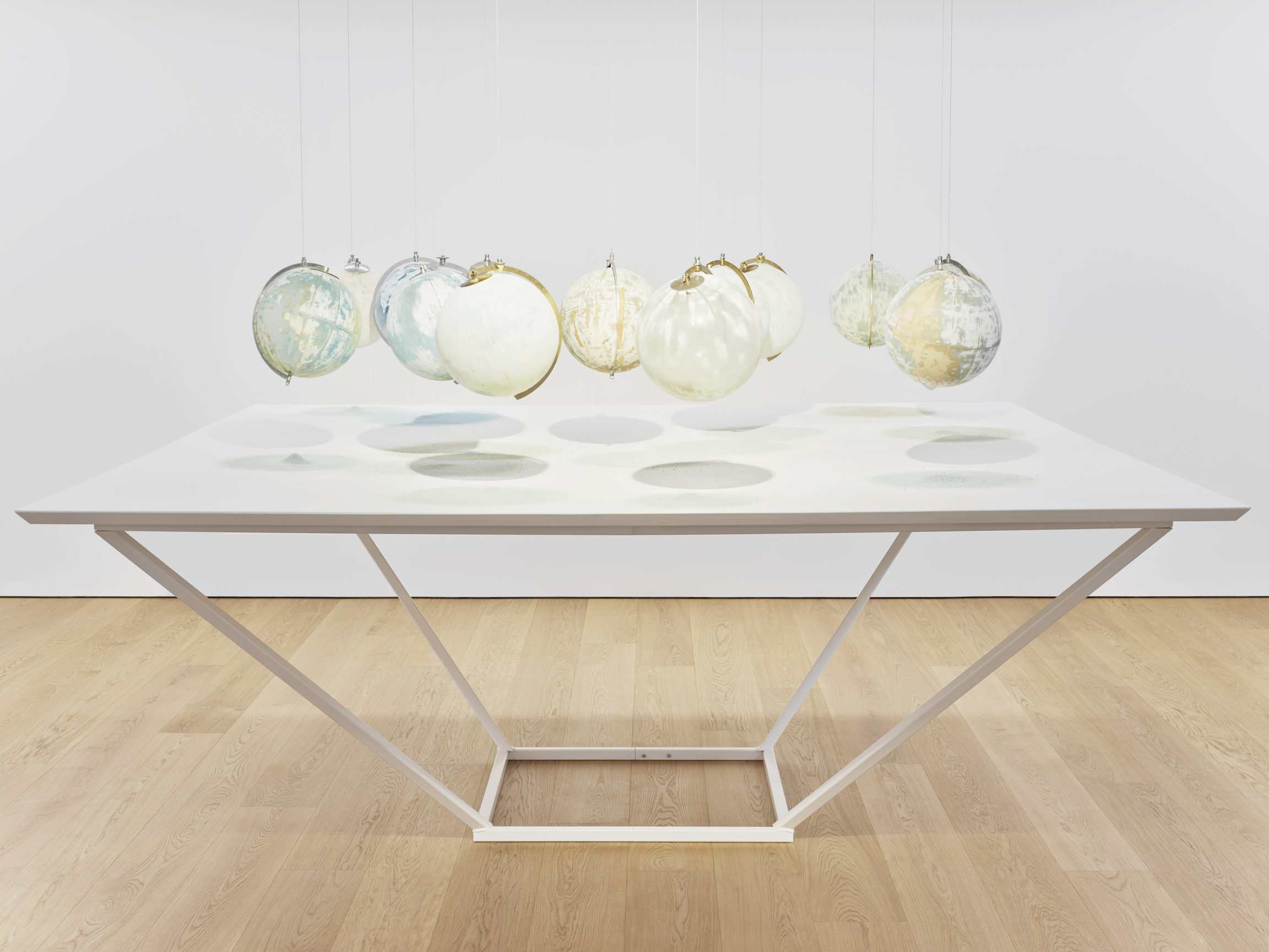 We Are All Astronauts is one of the first works Julian Charrière completed after studying with Olafur Eliasson at Berlin's Institut für Raumexperimente in 2013. It can be read retrospectively as a premonitory abstract of the artist's future realm of experimentation, the globe, which he has explored in its extremest aspects, from the ruined landscapes around Chernobyl and the Marshall Islands to the poles and the Atacama desert.
The installation takes its title from a quote by the visionary American architect, designer, and writer Richard Buckminster Fuller, in his book Operating Manual For Spaceship Earth (1969): "We are all astronauts on a little spaceship called Earth". The work consists of thirteen sandpapered globes that seem to float in the air above a table. The globes, of various sizes and materials, date from 1890 to 2011. The artist sandpapered off their successive, shifting geopolitical frontiers until the notion of territory vanished from their surface. He used specially made "international sandpaper" with sand samples from all the countries recognised by the UN, left over from his 2013 artwork Monument – Sedimentation of Floating Worlds. For the earlier work, he had blended the samples into cement to cast a rectangular pillar, creating an abstract, synthetic representation of the world. For We Are All Astronauts, the dust created by the sandpapering process gradually settled on the table beneath each globe, creating new, undefined cartographies and a landscape of abstract, fragile colours.
Bibliography
Dehlia Hannah (ed.), Julian Charrière. Towards No Earthly Pole, exh. cat. Lugano, MASI, Aarau, Aargauer Kunsthaus, Dallas, Dallas Museum of Art, Milan, Mousse Publishing, 2020.
Ziba Ardalan (ed.), Julian Charrière. For They That Sow the Wind, exh. cat. London, Parasol Unit Foundation for Contemporary Art, 2016.
Nicole Schweizer (ed.), Julian Charrière. Future Fossil Spaces, exh. cat. Lausanne, Musée cantonal des Beaux-Arts, Milan, Mousse Publishing, 2014.