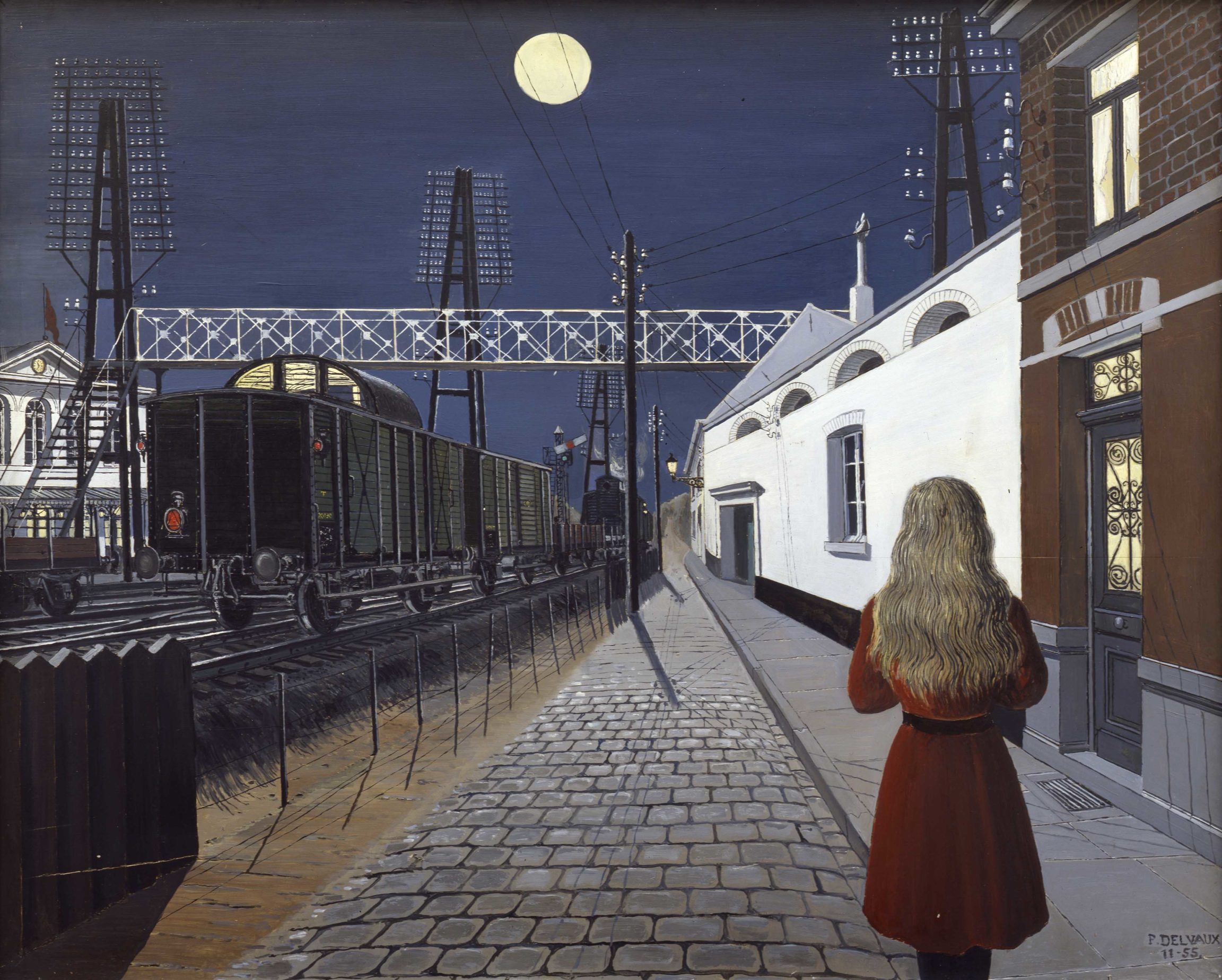 Train Zug Treno Tren.
Voyages imaginaires
 — 

Featuring over 60 masterpieces by an extraordinary range of artists, from Giorgio de Chirico and Edward Hopper to Paul Delvaux and Leonor Fini, the show takes us on a railroad epic.
Both a celebration and critique of modernity, the railroad, while inseparable from the ideology of unstoppable progress pulsing through the Industrial Age, generated surprising and incongruous effects in artists' imaginations. Trains embody both the rational and the irrational. Singing the praises of the speed and movement of machines, the Futurists express a burning passion for the evolution of things. With Surrealism, railroad accidents and travelogues feed into dark fantasies, but trains also reveal an erotic and poetic potential, an instrument that fosters waking dreams and brings out visual metonymies and metaphors. In the art of Edward Hopper and Paul Delvaux, the train and the railroad station, emptied out of their travelers, are places tinged with mystery and solitude. The stations aren't those of railway workers and travelers; they are rather those of dreams and illusions, boredom and sadness. Trains have no timetables, no passengers, no destinations.
Although supplanted by the airplane and soon the rocket ship in the collective dream of conquering new spaces, the train hasn't disappeared for all that from the imaginations of artists active in the second half of the 20th century, who have taken over the miniature train, appropriated this childhood toy, and strip away its innocence.
Standard bearer of the modern world, the train invites you to embark for a number of imaginary trips.
Exhibition curator: Camille Lévêque-Claudet, museum curator
Plateforme 10:
3 museums on an emblematic site in the heart of Lausanne
MCBA, Photo Elysée and mudac present: Train Zug Treno Tren
Presented from June 18 to September 25, 2022, the three exhibitions, conceived by each of the museums of Plateforme 10, enrich the metaphor of this railway history by paying homage to the former vocation of the site in the immediate vicinity of Lausanne station, a stopover for the mythical Venice-Simplon-Orient-Express.
Favoring the crossing of views, the three exhibitions free themselves from any literal or strictly chronological approach. Transdisciplinary, they prefer instead to cross their subject from one side to the other, symbolizing in a subtle mixture of identity strength and versatility the genesis of this unique platform that is the arts district of Lausanne.
Photo Elysée
Crossing Lines
Crossing Lines, explores new approaches to railway history for over more than a century and a half, from the earliest train experiences in the 19th century to its uses today.
Elysee.ch
mudac
Let's meet at the station
The mudac focuses on the idea of the encounter and the roman de gare (the pulp novel but literally in French the "train station novel"), placing the individual at the heart of its exhibition. An essential place for reunions, departures and chance encounters, the station and the train are living spaces conducive to the imagination.
mudac.ch