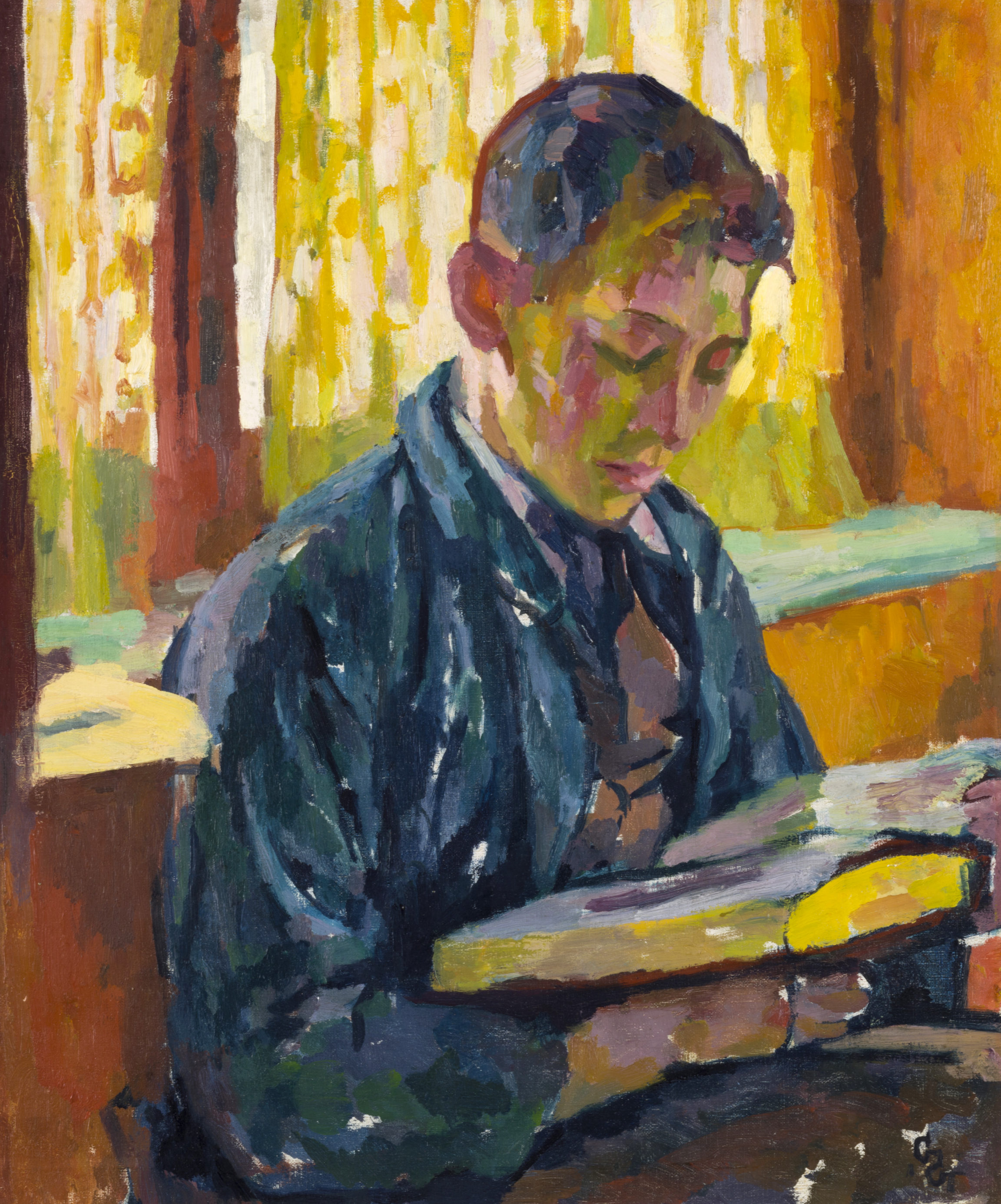 This portrait shows the home in Stampa where Giovanni Giacometti spent the last four decades of his life. By the time Alberto, the first of his four children, was born in 1901, he had already returned to settle in his home region of Graubünden after studying abroad. His first meeting with the symbolist artist Giovanni Segantini in Maloja in 1894 convinced him that living at high altitude, surrounded by hostile, sublime nature, with a set daily routine, would not be an obstacle, but rather a boost to his ability to focus on what was important. His wife Annetta and children at home, the mountains of Val Bregaglia and the upper Engadine lakes nearby were material enough to give fresh impetus to his study of the play of light and colour. In 1909, he wrote, 'The painter only sees colours in nature; the colours do not lie inert alongside each other, they live, they quiver.'
Here, Alberto is shown from the waist up, lost in a book. He is seen against the light in front of a window whose curtain veils a bright landscape; his body and the skin of his face are typical of Giacometti's mature style. The artist's aim was now simply to capture his own visual sensations, recording the facts as he observed them and pinning down localised patches of colour in an intense, bold palette.
Giacometti spotted Alberto's talent very early on. When he sat for the portrait, Alberto had just completed his first oil painting, a still life with apples, and his first sculpture, a bust of his brother Diego. His father let him off his chores to nurture his talent, and the two of them drew together. The portrait reflects the father's strict yet affectionate view of a young man taking his first steps on the difficult path towards becoming an artist.
Bibliography
Paul Müller and Viola Radlach, Giovanni Giacometti 1868-1933. Werkkatalog der Gemälde, Zurich, Schweizerisches Institut für Kunstwissenschaft, 1997, 2 vol.: n. 1915.05.