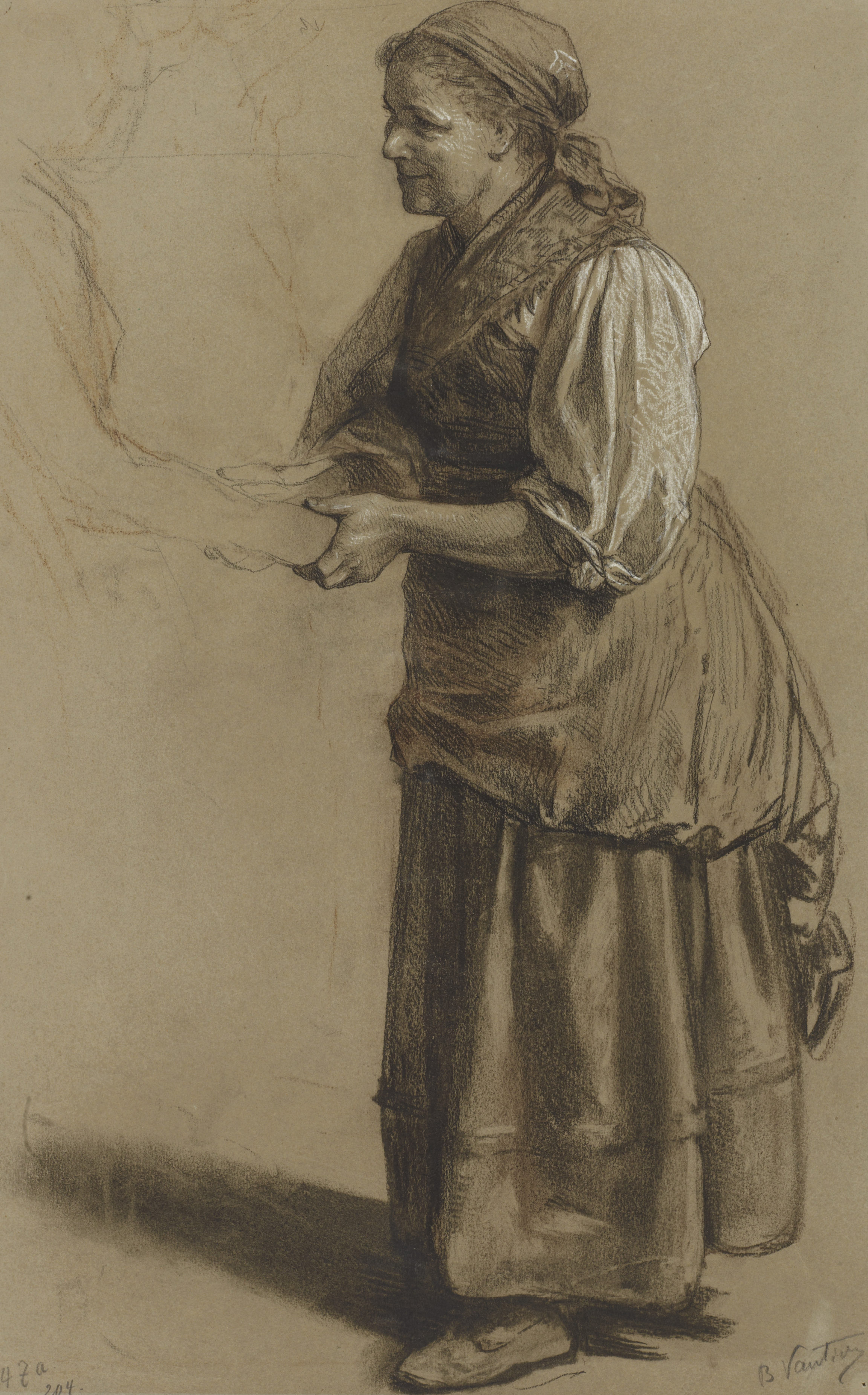 Marc Louis Benjamin Vautier (L'Aîné)
Étude pour le Retour des jeunes mariés (Study for the Homecoming), 1881
In 1898, the Swiss-born artist Benjamin Vautier died in Düsseldorf, where he had spent most of his career. He was feted by the media as one of the masters of German genre painting, on a par with Franz Defregger and Ludwig Knaus. His native canton of Vaud, belatedly realising that its museum only held one canvas by its illustrious son, sprang into action: the canton authorities organised a funeral wreath that was laid next to the one sent by Kaiser Wilhelm II. Émile Bonjour, curator of the museum in Lausanne, travelled post haste to the exhibition and sale of Vautier's studio collection, but with a limited budget, all he could afford was three painted studies and eleven preparatory drawings.
This drawing is one of the highly elaborate charcoal sketches purchased by Bonjour at that sale. They are mainly of interest for their virtuoso technical skill, particularly in the use of stumping and white chalk highlights, and for what they tell us about Vautier's working practices. He was born at a time when ethnography was gaining scholarly credence and every stage of his creative process was steeped in a rigorous study of real life. He took study trips to the Bernese Oberland, the Black Forest, and even as far as Alsace to sketch typical village scenes and acquire everyday objects, building up a splendid collection of folk costumes on the way. Back in Düsseldorf, he hired models to wear the costumes and pose one by one with the lighting he needed for his composition. This work demonstrates how meticulously he studied the garments, light and shade, emotional expression, and welcoming gesture of a peasant woman greeting her new daughter-in-law. The finished painting, Retour des jeunes mariés (The Homecoming) (1881) is in the Milwaukee Art Museum. The woman's hands clasping those of the barely-there young newlywed give the work a mysterious charm all its own.
Bibliography
Jacques Longchamp, Marc Louis Benjamin Vautier (dit l'Ancien). Une monographie, Geneva, Slatkine, 2015: n. 205.
Catherine Lepdor and Elizabeth Fischer (eds.), Modes et tableaux: œuvres de la collection et costumes de 1700 aux années folles, Les Cahiers du Musée des Beaux-Arts de Lausanne n. 10: 2000.