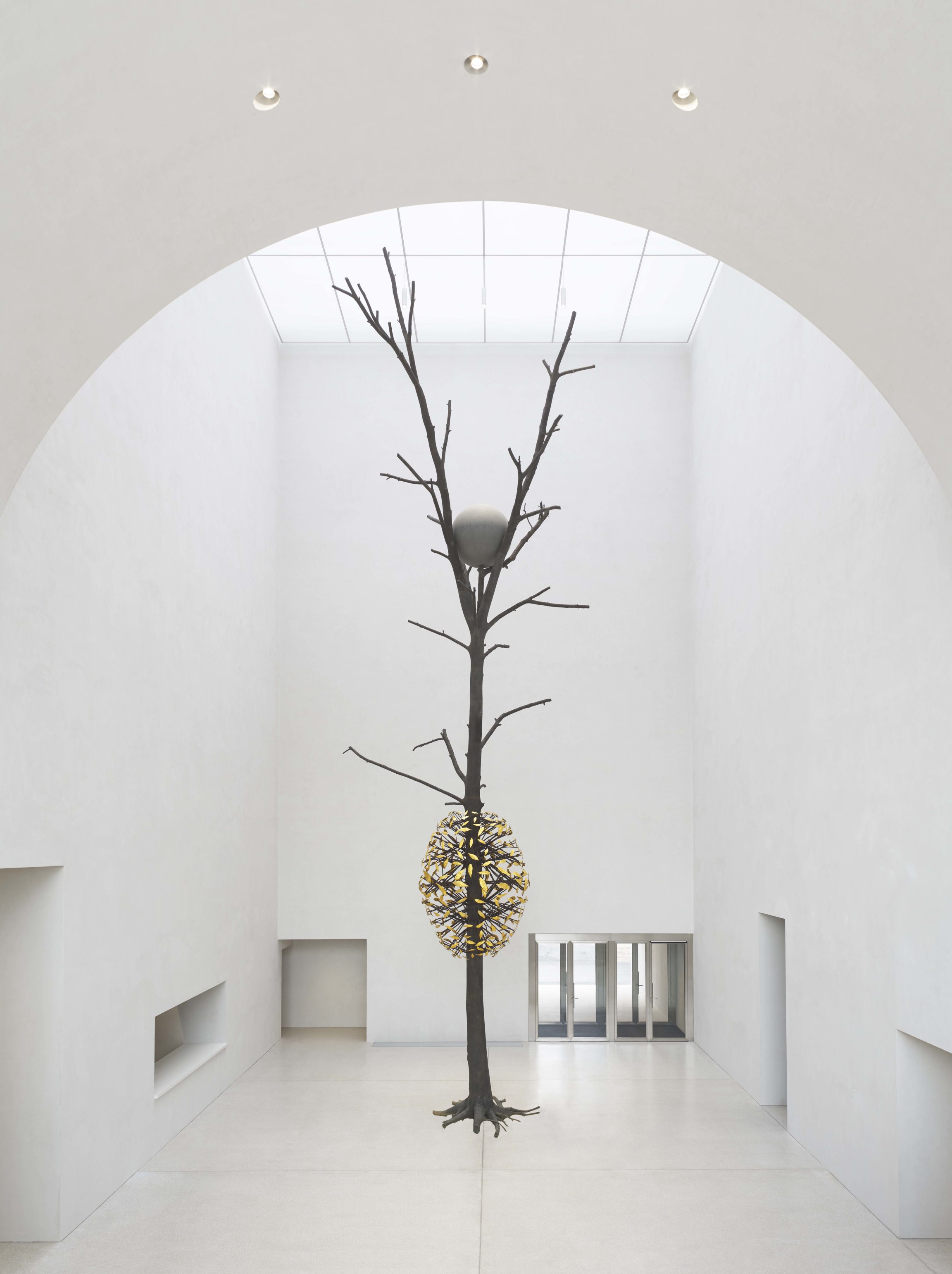 Trees as a motif and wood as a material are constant presences in Giuseppe Penone's work. He has exhibited blocks of wood, carved trunks into a tree trunk and sculpted them in marble, assembled branches into a base, exposed roots, made prints from bark, and turned growth rings into fingerprints, exploring the connection between man and nature.
A leafless bronze tree standing fourteen metres tall, an ellipsoid outgrowth of gilded leaves, and a granite sphere are the three elements and materials of this sculpture, a surprising blend of organic and geometric, with surrealist echoes of Max Ernst and René Magritte. Giuseppe Penone commented on the work: 'The tree reaches for the sky and the foliage broadens into an ample sphere to gather as much light as it can. This is why the leaves are gilded. Bronze, on the other hand, is an element subject to the force of gravity that pulls us down towards the depths of the earth, to darkness.' The granite ball perches atop the tree as if it had fallen from the skies. The perfect geometric form creates a striking contrast with the tree, an organic element that for Penone is the prototype of the ideal sculpture.
According to the Book of Genesis, the first act in the creation of the world was separating light and darkness. The theme of light and shade is materialised in Penone's work in a superb, eminently sensual, and somehow enigmatic work of art. Standing in the Museum entrance lobby, a neutral space where people come and go, the sculpture marks its territory, defining it as part of the realm of art. It explores a question that is fundamental to the act of perception, as light and shade are the absolute prerequisites for visibility.
Bibliography
Bernard Fibicher (ed.), Giuseppe Penone. Regards croisés, exh. cat. Lausanne, Musée cantonal des Beaux-Arts, Milan, 5 Continents Editions, 2015.
Laurent Busine (ed.), Giuseppe Penone, Arles, Actes Sud, 2012.
Françoise Jaunin, Giuseppe Penone: le regard tactile [interviews], Lausanne, La Bibliothèque des Arts, 2012.