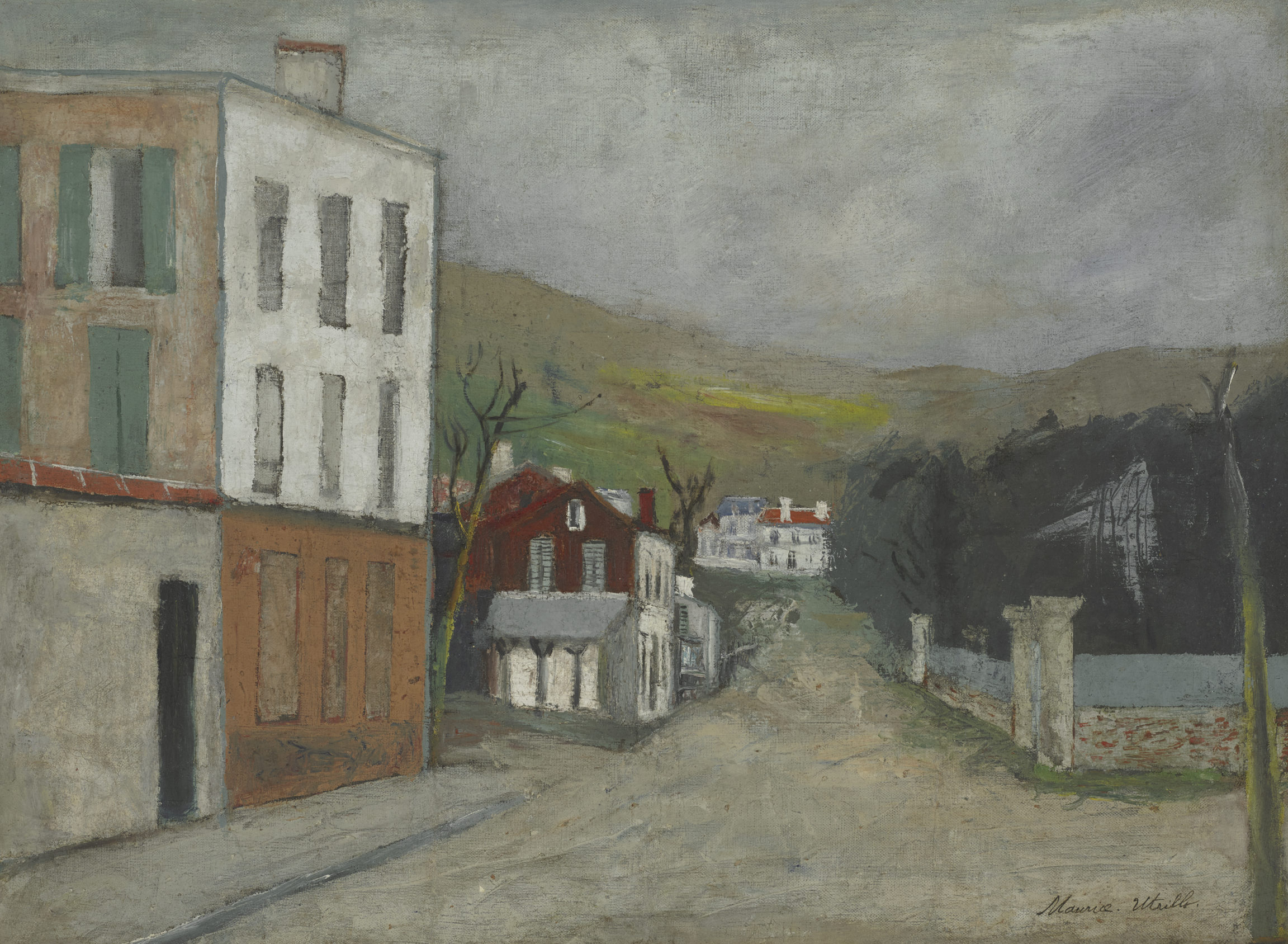 As a teenager, Maurice Utrillo was encouraged to paint by his mother, Suzanne Valadon, a model and self-taught artist, who hoped that it would have a therapeutic effect in calming his violent mood swings and allay his precocious alcoholism. In any case, he proved to have real talent and in the 1920s began to enjoy great success with his views of deserted streets and colourful façades in Montmartre. Whereas predecessors such as Toulouse-Lautrec had shown the hubbub of the cafés and the bohemian life on the Butte, Utrillo's urban landscapes are striking in their austerity and the feeling of solitude that they exude.
After an early phase characterised by the application of thick impasto and dark colours, the 1910s marked the beginning of Utrillo's 'white period'. His palette grew lighter. Instead of the old green and blue ochre tones, the artist now preferred zinc white, which he applied with a palette knife, sometimes mixed with plaster. In those days he left Montmartre only for therapy with Doctor Revertégat in the Parisian suburb of Sannois. The only other movement that broke up his monotonous existence were a few trips with his mother and his father-in-law, André Utter. In autumn 1913 the three travelled to Corsica but the taciturn Utrillo refused to let the Isle of Beauty work its magic. Everywhere he went, he turned his back on the sea, preferring the streets of Corte and Belgodère. There he continued to look for stony colours, enlivened, as here, by one or two green or grey shutters. True, there is a greater contrast than in Paris, his whites now being set against more Mediterranean browns and ochres, but the sun of the South did not reinvigorate his colours, which remained muted.
In Corsica as in Paris, Utrillo avoided agitation, taking refuge in the pensive contemplation of anonymous, soulless architecture. Empty streets and closed shutters contribute once again to the expression of that deep melancholy that was part of his temperament.
Bibliography
Jacqueline Munck, 'Maurice Utrillo, "le simple",' in Marc Restellini (ed.), Valadon Utrillo. Au tournant du siècle à Montmartre – de l'impressionnisme à l'École de Paris, Paris, Éditions Pinacothèque de Paris, 2009: 49-57.