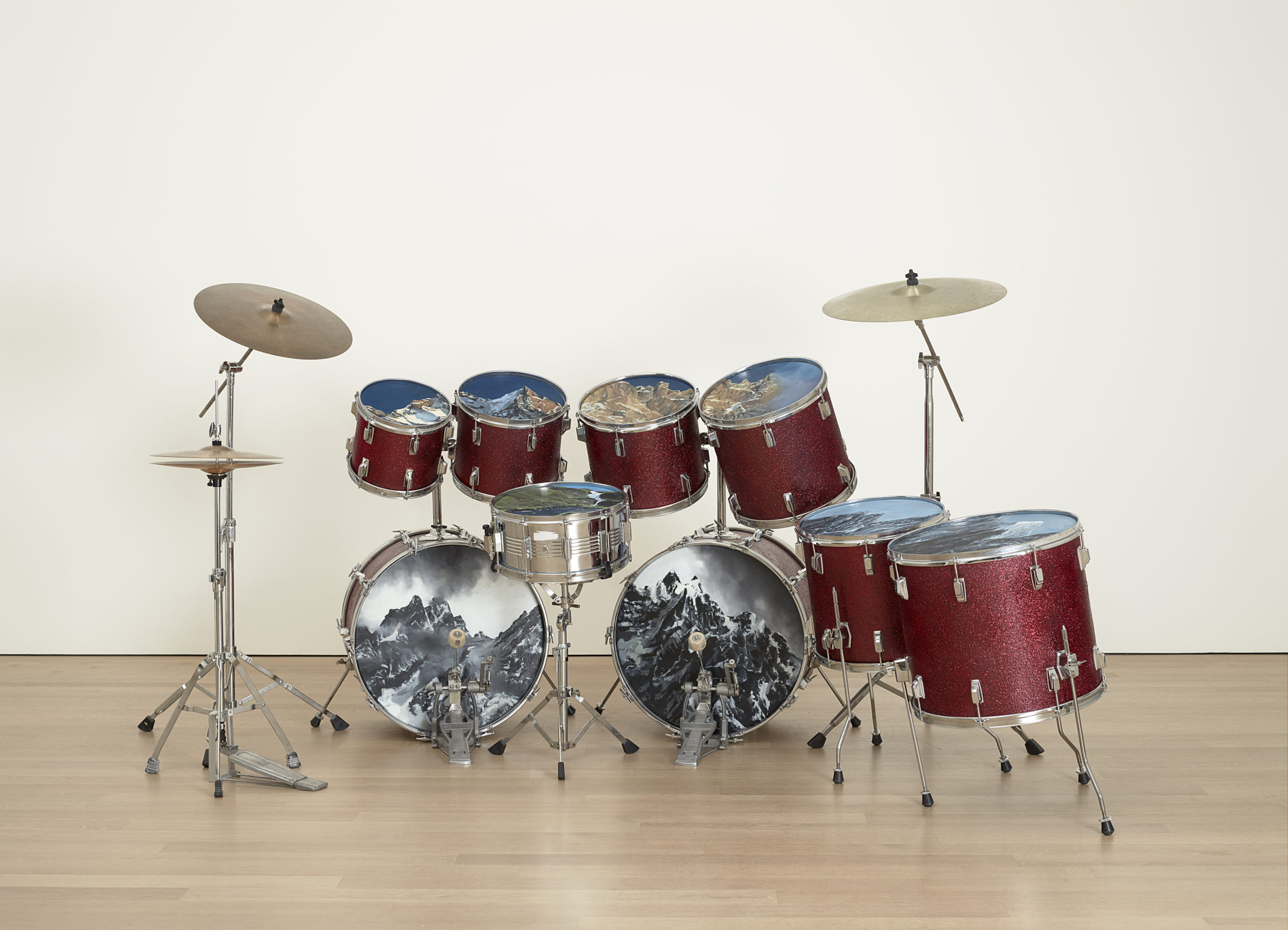 Vincent Kohler appropriates familiar objects and takes them as far as his imagination will carry him, towards popular culture and, sometimes, childhood. He oversizes and transforms them, giving them a humorous, grotesque or fantastical quality. Charlotte (2001, Geneva, Mamco), for example, is a female monster made of giant potatoes whose parts are articulated with toothpicks. Cervelas (2008) is a grilled sausage whose ends have been split crosswise, and Cancan (2013) is a limited edition of concrete legs inspired by the ones used to display tights.
Music is a favourite theme with this artist, who also plays drums for the group Kunst, and this youthful work, Vintage Drums Ensemble, refers to this passion. There is no play on scale here, simply the kind of extensive drum kit used to boost the visual impact of a hard rock band. The artist has decorated the skins with crudely done alpine paintings based on photographs. The instrument no longer seems to serve its usual function, unless one imagines a very iconoclastic drummer. Instead, it has become a device for displaying painting: these tondo windows open to nature, as if we were looking at a landscape through a telescope. For example, a panorama extends across several drums, echoing the 'toms going down', a rhythmic figure typical of rock and jazz.
Vintage Drums Ensemble marks the meeting of two cultures, that of folklore and its picturesqueness, and that of rock. Behind its surprising appearance, verging on bad taste (red glitter and mediocre paintings), the absurdity of this work interrogates the kitsch aesthetic while evoking 'customisation', the practice of appropriating mass-produced objects by adding unique details.
Bibliography
Elio Schenini, Wow! Raccotando le opere di Vincent Kohler/Recounting the works of Vincent Kohler, exh. cat. Lugano, Museo Cantonale d'Arte, 2012: 31.
Andrea Thal, Vincent Kohler, Lucerne/Poschiavo, Edizioni Periferia, Zurich, Pro Helvetia, 2007: 5-8 (coll. Cahiers d'Artistes 2007).
Catherine Othenin-Girard, Vincent Kohler, Lausanne, Collection BCV-Art (n. 28), 2005, n. p.